The Honeybee Sisters
Lily, Poppy, and Rose Christner, known as the Honeybee Sisters in their Amish community, are smart, inseparable, and all grown up. Orphaned when they were very young, the girls were raised by their eccentric Aunt Bitsy, who doesn't behave like a proper Amish spinster. The Honeybee Sisters have blossomed into rare beauties, and the boys in the community have begun to take notice. But Aunt Bitsy is determined to scare off all comers with her brusque manner and her handy shotgun. None but the most worthy will make it past Bitsy's defenses. It's going to be a rowdy and romantic summer—harvesting honey from their many beehives and fighting off the boys right and left.
---
Sweet as Honey – Book 1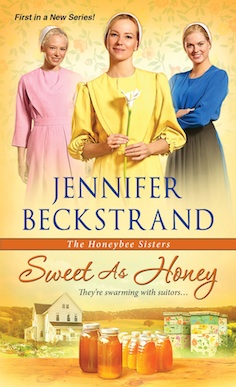 Bookish Lily Christner, the eldest of the Honeybee Sisters, was a bit of a late bloomer. Not only was she a far-sighted, pimply, clumsy teenager but it took four years and some serious head gear to get her unruly teeth in line. Now at age twenty-two, Lily is prettier than the flower she's named after and the boys are flocking to her door, even Daniel Kanagy who used to tease her mercilessly. And although Lily would rather stay mad at him and bury her nose in a book, Daniel just might make himself irresistible, especially when he brings her books and helps Aunt Bitsy with her latest projects. Can Lily let go of the past and forgive? Can Daniel prove he's truly changed? Can Aunt Bitsy get away with a tattoo in Amish country?
---
BUY NOW at Amazon.com | BarnesAndNoble.com | BooksAMillion.com
---
"Heart-clenchingly romantic and wryly hilarious, Beckstrand's latest novel sets the stage for another charming series. A cast of winsome characters, including the unconventionally delightful Aunt Bitsy, traipses across the pages into readers' hearts. Warmly written, well-paced and brimming with affection, Sweet as Honey is sure to become a fan favorite."– RT Book Reviews, 4.5 Stars Top Pick
"Beckstrand (Huckleberry Hearts) opens a series in her Wisconsin Amish setting with a "wonderful-gute" novel that celebrates women's resourceful strength and pluck, rewarding the good-hearted who keep close to the spirit (if not the letter) of traditional values over those who are concerned with maintaining appearances but fail at human connection. The three Christner sisters live with their protective aunt Bitsy, whose sarcastic vocal prayers and habit of wearing earrings—a holdover from her Englisch days—break all protocol. They make a modest living through the hard work of keeping bees. Dan Kanagy returns from a trip full of teasing words for his longtime crush, Lily Christner, but his kindness and enthusiasm for helping with hive chores, mousetraps, and buggy rides are in notable contrast to the behavior of her fiancé, stingy, selfish, and judgmental Paul Glick, who is mostly concerned with grooming Lily to be a modest wife. Beckstrand humorously displays the awkwardness and immaturity of her young protagonists while uplifting them, and though readers will have a good idea of where the story is going, its unfolding is delightfully sweet. As a bonus, the beekeeping details are accurate, and Beckstrand includes some tasty recipes."– Publishers Weekly STARRED REVIEW