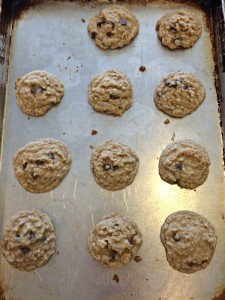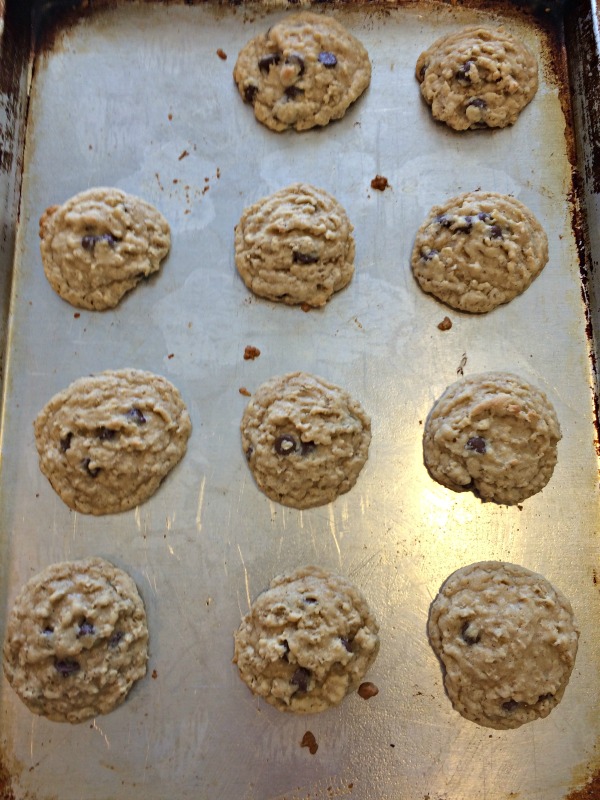 In the Amish Quiltmaker's Unruly In-law, Ben Kiem is trying to quit smoking, and Linda Eicher wants to help him. She thinks of a lot of different ways to distract him. She takes him hiking and canoeing and swimming. One day, she decides that baking cookies would be a fun activity. Little does Ben know that baking together is a great way to fall in love. This is Linda's favorite recipe–and mine too!
Linda Eicher's Chocolate Chip Cookies

Ingredients
2 cups packed brown sugar
2 cups white sugar
2 cups butter, softened
4 eggs
1 teaspoon salt
2 teaspoons baking powder
2 teaspoons baking soda
2 teaspoons vanilla
4 cups flour
5 cups oatmeal, quick or regular
2 cups chocolate chips
2 cups raisins (optional)
2 cups chopped walnuts or pecans (optional)
Instructions
Cream together brown sugar, white sugar, and butter.
Add eggs and beat well.
Add salt, baking powder, baking soda, and vanilla. Mix well.
Add flour and oatmeal.
Mix in chocolate chips (and raisins and nuts, if desired). Mold dough into golf-ball size balls and place on unreleased cookie sheet 2 inches apart.
Bake at 375 degrees for 8-10 minutes.