The Honeybee Sisters
Lily, Poppy, and Rose Christner, known as the Honeybee Sisters in their Amish community, are smart, inseparable, and all grown up. Orphaned when they were very young, the girls were raised by their eccentric Aunt Bitsy, who doesn't behave like a proper Amish spinster. The Honeybee Sisters have blossomed into rare beauties, and the boys in the community have begun to take notice. But Aunt Bitsy is determined to scare off all comers with her brusque manner and her handy shotgun. None but the most worthy will make it past Bitsy's defenses. It's going to be a rowdy and romantic summer—harvesting honey from their many beehives and fighting off the boys right and left.
---
A Bee in her Bonnet – Book 2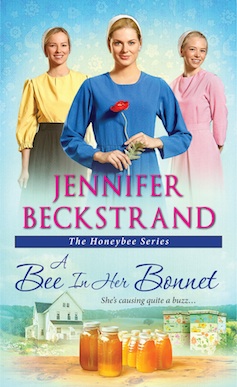 Poppy Christner has always liked playing softball with the boys better than playing dolls with the girls. In grade school, she periodically got into tussles with boys who poked fun at one of her sisters or mistreated the little kids. She once gave Luke Bontrager a bloody nose when he refused to let her join in a boys-only game of tackle football. Luke has no interest in Poppy whatsoever, or at least that's what he tells himself. He wants a girl who's demure and feminine and can't live without a manly man. But when they're forced to work together to protect Poppy's family, Luke might decide Poppy is the girl he wants after all. And Aunt Bitsy might decide to write a vampire romance.
---
BUY NOW at Amazon.com
| BarnesAndNoble.com | BooksAMillion.com
---
"The latest book in The Honeybee Sisters series is another hilarious and breathlessly romantic adventure. Aunt Bitsy continues to be delightfully amusing, her Amish roots blending with her Englisch experiences in ways that are both unconventional and laugh-out-loud funny. The added bits of more physical humor this go-around, as well as the love-hate nature of the romantic tension, give this book its own distinct feel from its predecessor. Beckstrand has a knack for combining humor and romance along with "real" characters, and this series is the best example yet!" RT Book Reviews 4 1/2 stars, Top Pick
"Self-confidence, practicality, and determination trump jealousy and meekness, and gendered behavior restrictions get shaken up, in Beckstrand's optimistic, sweet second story of the Wisconsin Amish "honeybee sisters" (after Sweet as Honey). Beckstrand's good-hearted, strong-willed characters grow by pushing gently at the trappings of traditional life without rebelling against it." Publisher's Weekly