A Honeybee Christmas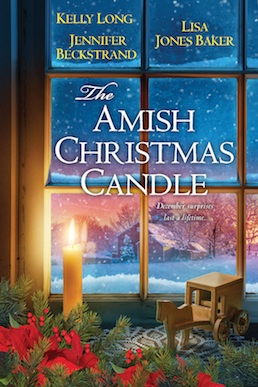 Bitsy Kiem gave up her life as an Englischer to see that her three nieces were raised devout Amish girls, and all she has to show for it are four ungrateful cats, several gray hairs, and ten gallons of leftover honey. Now that her beloved nieces are married and out of the house, she plans to kick up her heels a little and do something unexpected this Christmas, like get a real tattoo or start a beeswax candle business or actually learn how to shoot her shotgun. Unfortunately, Yost Weaver keeps coming around, interrupting her plans, and making himself very useful around the house. Will Bitsy be able to forgive the past and let Yost into her heart this Christmas, or will she get fed up and drive him off with her shotgun?
Widower Yost Weaver would never step one toe outside of the Ordnung, the set of rules that his Amish community lives by, and that's how he lost Bitsy Kiem more than three decades ago—a choice that he can only recollect with gratitude. Even though she is in his district, he's done his best to stay away from her. She's unconventional, unrepentant, and she colors her hair unacceptable shades of pink. No matter how lonely he is, he'd never consider Bitsy for a wife. But with her determination, her devotion to Gotte, and her heart for the downtrodden, Bitsy worms her way into his reluctant heart, and he resolves to marry no one but her. Surely with his guidance she can be molded into a proper Amish fraa.
Or maybe Yost Weaver has met his match.
---
Now Available!