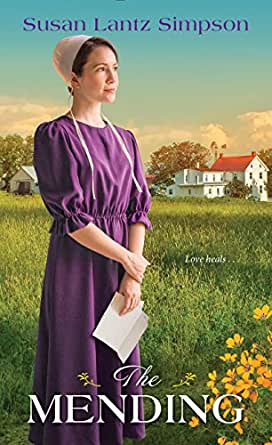 I am thrilled to be participating in Amish Christmas Miracles, a collection of 14 Amish Christmas romances by 14 of your favorite Amish fiction authors. If you haven't preordered your ebook copy for 99 cents, now is a great time before the price goes up to $9.99 on November 15! Preorder at BarnesandNoble.com or Amazon.com or the Apple Bookstore. It's sure to bring you hours of Christmas delight!
It's my pleasure to introduce one of the authors participating in the collection. Susan Lantz Simpson has been writing stories and poetry ever since she penned her first poem at the age of six. She has always loved the magic of words and how they can entertain and enlighten others. Her love of words and books led her to earn a degree in English/Education. She has taught students from Prekindergarten to high school and has also worked as an editor for the federal government. She also holds a degree in nursing and has worked in hospitals and in community health. She writes inspirational stories of love and faith and has published a middle-grade novel (Ginger and the Bully) in addition to her inspirational romances (Plainly Maryland Series and Southern Maryland Amish Romances Series). She was a finalist in the OCW Cascade fiction contest. She is a member of ACFW. She lives in Maryland and is the mother of two wonderful daughters. When she isn't writing, she enjoys reading, walking, and doing needlework.
Today, Susan is sharing an experience she had while doing research for one of her books.
Learning new facts about the Amish is always so much fun. One of my most memorable experiences involves members of two other Plain communities.  My area is fortunate enough to have Old Order Amish, Old Order Mennonite, and more modern Mennonite communities. On this particular day, my "modern" Mennonite friend accompanied me on a visit to a wonderfully kind and welcoming Old Order Mennonite family.
We all sat in the living room where I absorbed every fact my friends divulged. Although the two women were similarly clothed, there were subtle differences in the style of their dresses and kapps. After pointing those out to me, they then explained similarities and differences between their communities and the nearby Old Order Amish folks. Even my Old Order friend's husband, who is the local buggy maker, and her daughter, who was trying to sew a shirt on the treadle sewing machine, chimed in with information and eagerly showed me their home and shop.
I left my friends' home that day feeling so blessed to have such warm, accommodating, and amazing people as "neighbors," and I was excited to add some of the information I had gleaned from that visit to my stories.
Learn more about Susan and her wonderful books at her website here.
And be sure to preorder Amish Christmas Miracles for 99 cents at the Apple Bookstore, BarnesandNoble.com or Amazon.com. 14 Amish authors. 14 heartwarming Christmas stories.