Christmas is the perfect time to spend in the kitchen creating baking traditions with your family. And Christmas is the perfect time for cake! My daughter Nicole is an excellent cake baker, and she loves making Christmas cakes. Here is her recipe for Chocolate Peppermint Stick Cake. Next week I'll feature her recipe for Gingerbread Cake with Eggnog Cream Cheese Frosting, and the week after that, I'll post her recipe for Cranberry Crumble Cake. Have a yummy holiday!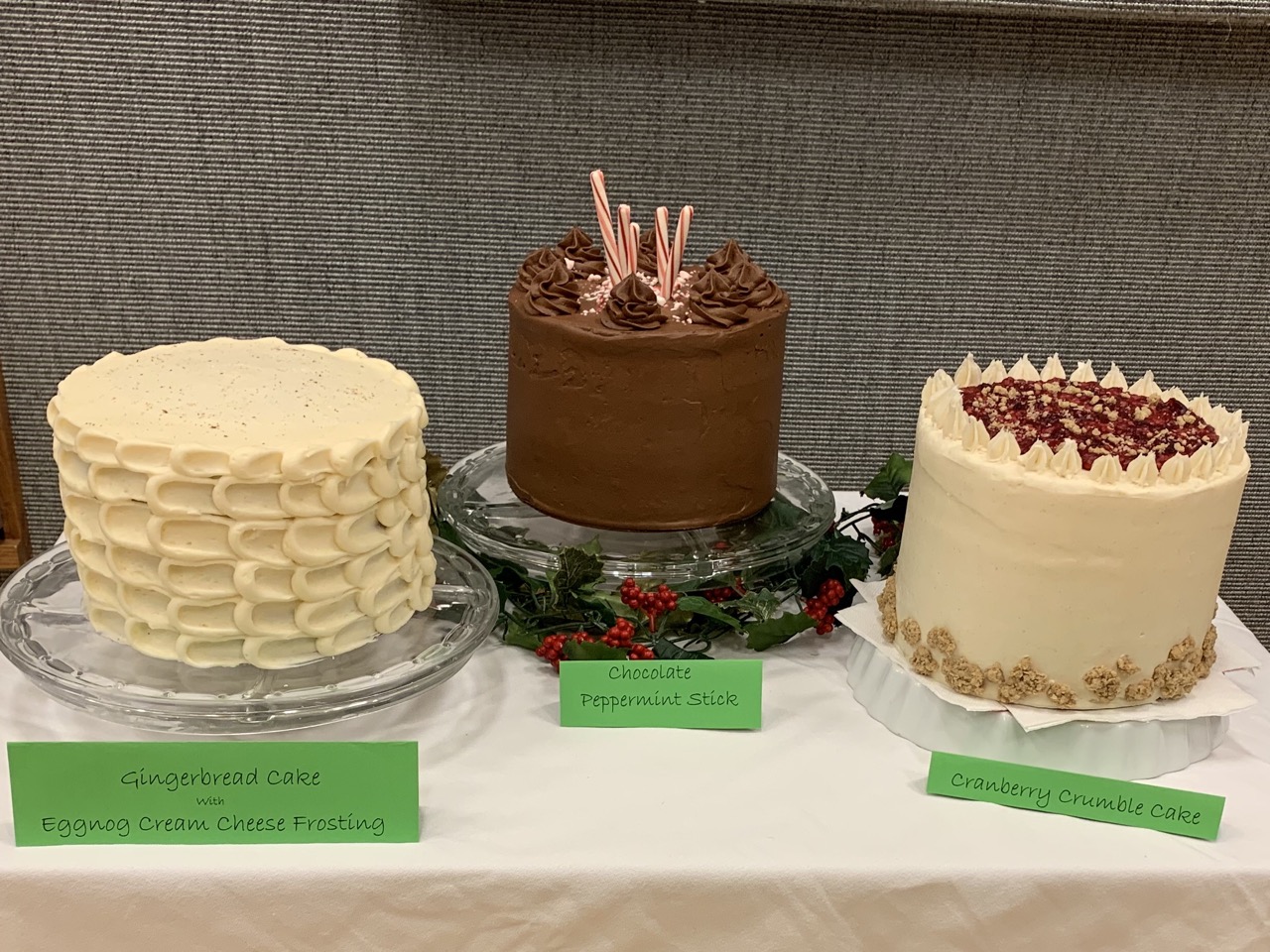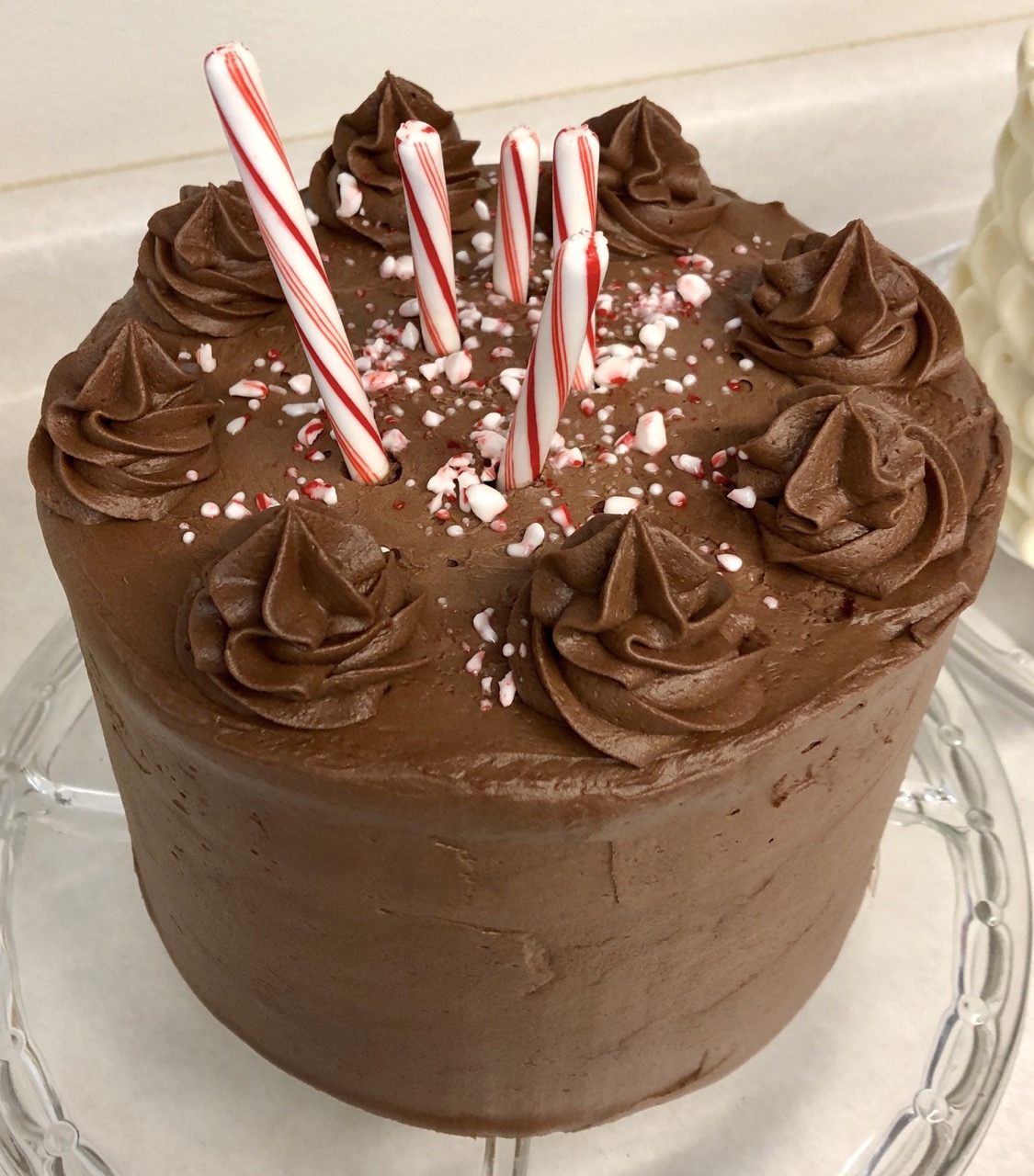 Ingredients
CHOCOLATE CAKE:
2 boxes of chocolate fudge or devil's food cake mix (any brand), but follow these adjustments to the directions on the back of the box:
Use whole or 2% milk instead of water
Use melted butter instead of oil and DOUBLE the amount (1/2 cup oil=1 cup melted butter)
Add an extra egg (if it calls for 3, add 4, etc.)
CHOCOLATE PEPPERMINT BUTTERCREAM FROSTING:
4 sticks room temperature butter (2 cups)
1/2 tsp. salt
1 cup unsweetened cocoa powder (I use Hersheys)
7 cups powdered sugar (or to taste)
3 Tbs. milk or heavy cream
1-3 teaspoons of peppermint extract, depending on how strong you want it
Instructions
Line 3 8-inch round cake pans with parchment paper and bake as instructed on cake mix box. (I make cupcakes with my leftover batter.)
Cool cakes in pan for 10 minutes then turn onto a cooling rack to cool completely.
If your cakes have a domed top, you can level them off carefully with a serrated knife.
You can brush your cakes with a simple syrup if you'd like, or skip that step. Simple syrup is sugar and water that has been cooked on the stove to thicken it slightly (1 cup water and 1 cup sugar). I added a bit of peppermint extract to my syrup for this cake as well.
I always make my cakes a few days in advance and freeze them in gallon ziploc bags.
FOR FROSTING:
Beat the butter until creamy, add the salt, cocoa powder, and half the powdered sugar. Mix. Then add the remaining powdered sugar, milk, and extract. Mix again. Taste and adjust as wanted.
You can store this in the fridge for a day or two, or use immediately.
Crush 6 or 7 candy canes in a food processor for assembly.
TO ASSEMBLE:
Start with a cake layer, top it with about 1 cup of chocolate frosting (more or less to your liking). Smooth the frosting out until it's level. Sprinkle crushed candy cane over the frosting (however much you'd like, keeping in mind you'll have three layers). Then stack the next cake and repeat frosting. Once all your layers are in place, frost the top of the cake the way you'd like it, then the sides of your cake completely before decorating the top with crushed candy cane, whole candy canes, or additional decor. Refrigerate cake for an hour to set frosting. If frosting becomes too warm during decorating, place the cakes and frosting in the fridge for 15 minutes before continuing.
You can serve your cake chilled if you like cold cake, or it can sit at room temperature for several hours (4-6) before serving. I prefer room temperature cake.