Here is the third Christmas cake made by my daughter Nicole. Enjoy! And have a Merry Christmas
CRANBERRY CRUMBLE CAKE:
For a three layered 8″ cake you will need 2 boxes of vanilla (french vanilla is fine) cake mix. You will have leftover batter- I suggest cupcakes 🙂
Follow the instructions for the cake mix on the back with the following adjustments:
1- Use milk instead of water
2- use melted butter instead of oil and DOUBLE the amount
3- Add one more egg than it calls for
I used a 12 ounce bag of cranberries.
I used one cup of cranberries coarsley chopped, coated in flour, and put into my vanilla bean cake mixes. You can use vanilla or even just white cake mix if you'd prefer.
The rest of the cranberries were used to make the cranberry sauce recipe on the package. Adjust the amounts because you will have about 2 cups of cranberries left.
Make the cranberry sauce- cool and store in the fridge for a up to a week or use immediately.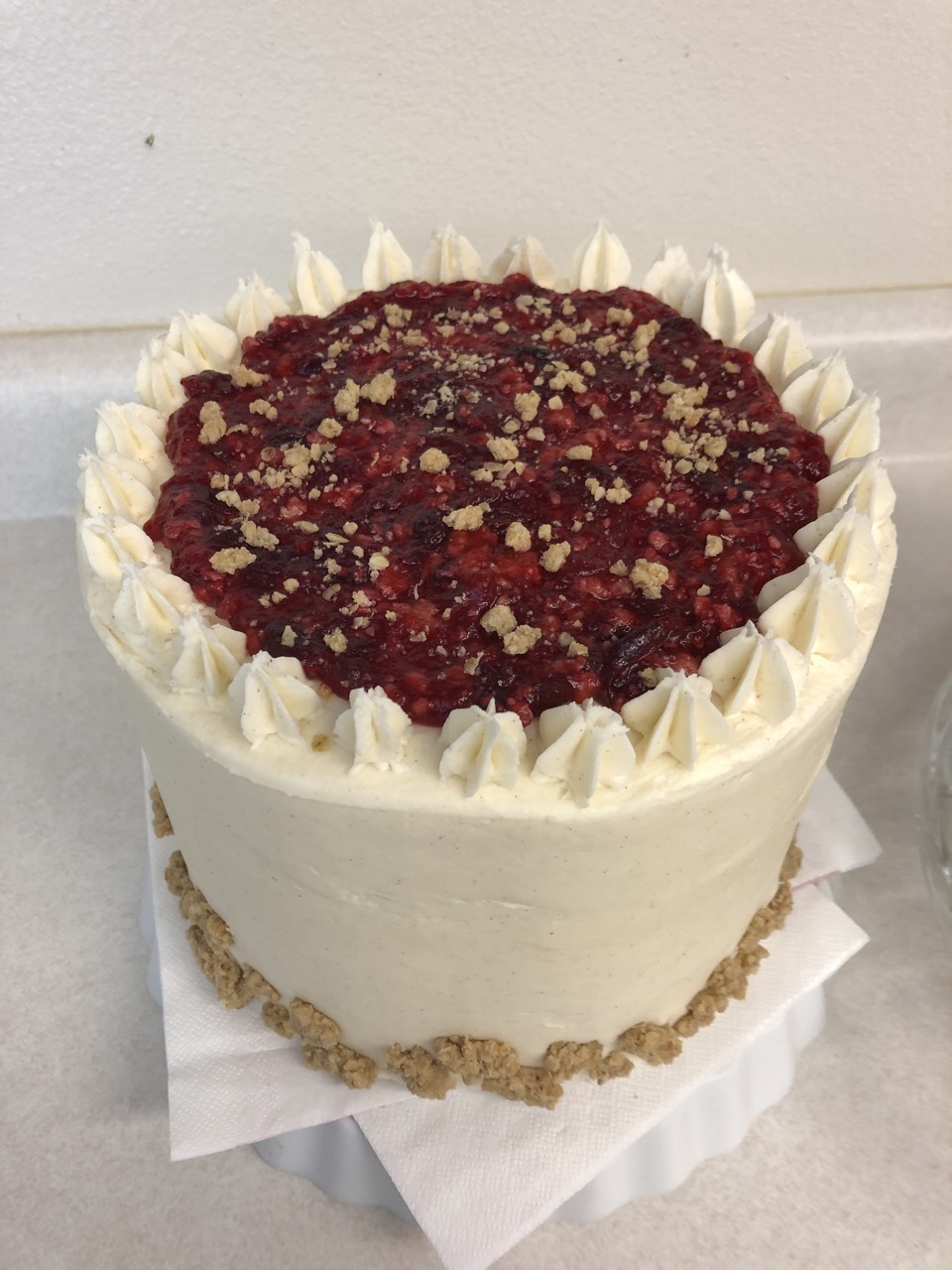 Make the crumble-
1 cup old fashioned oats
1 cup flour
3 Tablespoons sugar
1/2 cup brown sugar
1/4 teaspoon salt
1/2 tsp. cinnamon
pinch nutmeg
1/2 cup soft butter
Preheat oven to 350
Mix together all the crumble ingredients except the butter.
Add the butter and mix until everything is combined (you may want to use your hands).
Spread the crumble on a cookie sheet lined with parchment.
Bake flat for about 5 minutes. Stir around a bit then cook another 3-4 minutes.
Let cool and store in a container until ready to use.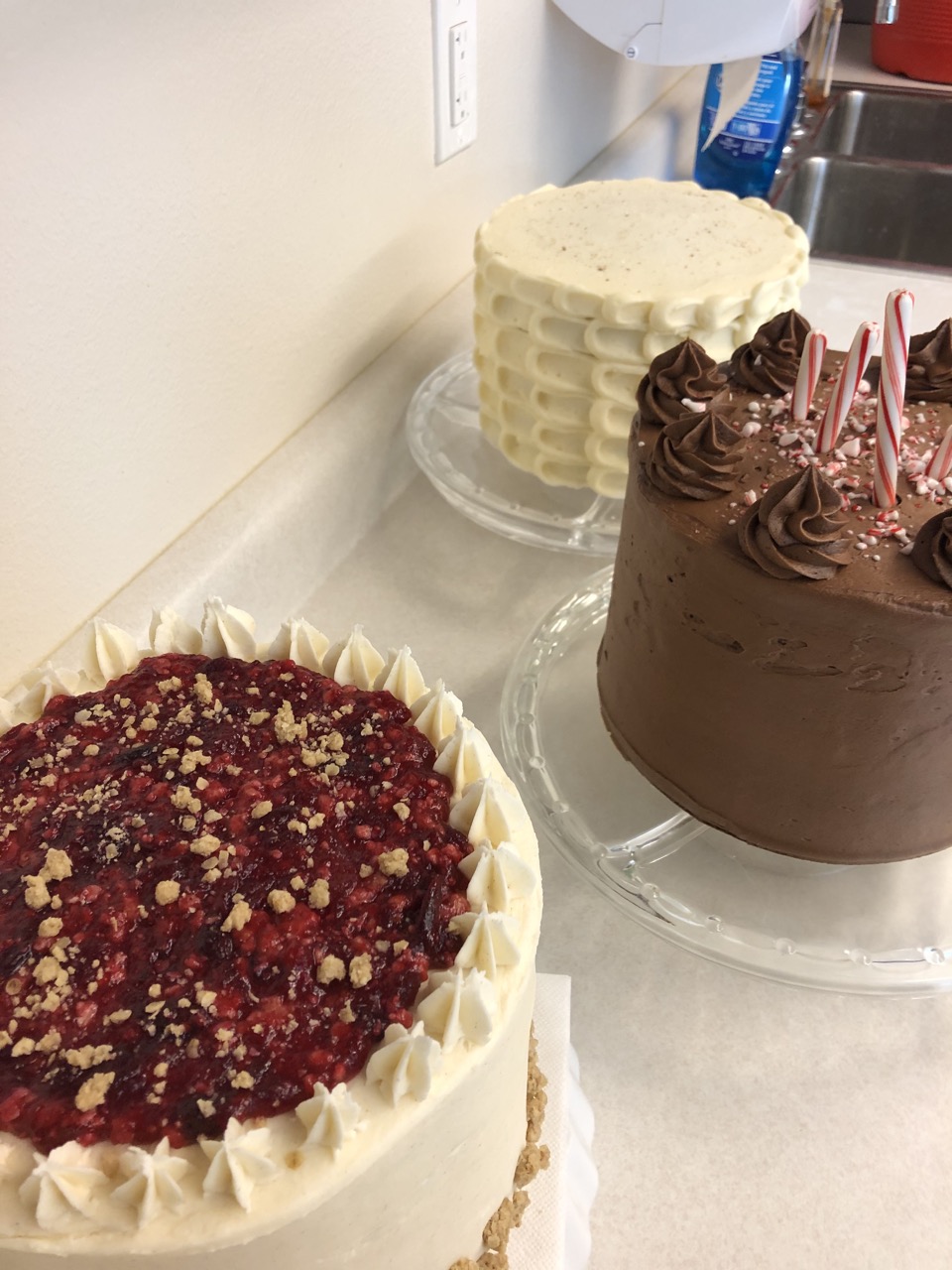 CINNAMON SPICED VANILLA BUTTERCREAM:
1/4 of a package of cream cheese (room temperature)
4 sticks of butter, room temperature
1 Tablespoon vanilla extract
1 tsp. cinnamon or more, depending on how strong you want it
1/4 cup milk or heavy cream
6-7 cups powdered sugar, to taste
Cream together the butter and cream cheese well.
Add extract, cinnamon, and half the sugar. Mix.
Add the rest of the sugar and milk.
Mix until creamy and delicious, adjust for taste.
TO ASSEMBLE:
Stir half the crumble into your cooled cranberry sauce
Start with a layer of cake. Pipe or thickly spread a layer of frosting around the outer edge of the cake, creating a dam for the cranberry sauce.
Place a generous layer of cranberry crumble sauce over the rest of the cake layer
Top with the next cake layer and repeat.
Frost the top cake layer fully with frosting, and then fully frost the outside of your cake.
Once your cake is complete you can carefully spoon and spread the remaining cranberry sauce on top of your cake and decorate as desired.
I used leftover crumble for the decorations and I stored the rest in the freezer for ice cream topping.
This cake can be chilled for a bit to let the frosting set, and then left out for 5-6 hours before serving.