The Matchmakers of Huckleberry Hill
The Helmuths' thirteen children are grown and moved away. Anna and Felty Helmuth, full of vinegar and spice, are looking to stir up a little excitement. What could be more fun than throwing two young people together to see if sparks ignite? And who would ever suspect two elderly Amish folks of mischief? With a little help from the Helmuths, Huckleberry Hill could turn out to be the most romantic spot in Wisconsin.
---
Courtship on Huckleberry Hill — Book 8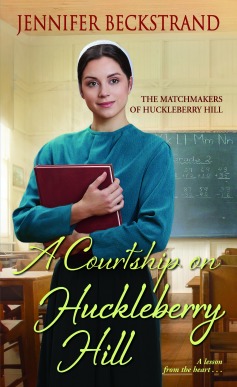 Sam Sensenig is at the end of his rope. It's all he can do to look after his younger siblings, work the farm, and care for his ailing mother. So when the new school teacher starts picking on Sam's disabled brother, his patience snaps. It doesn't matter if she has eyes as blue as the sky or skin as smooth as a freshly tilled soil. She's feisty and stubborn and has a mean streak a mile long. If she thinks she can bully his brother just because she's the teacher, she has another thing coming.
Elsie Stutzman's plain speaking stubborn streak has gotten her into trouble before. But even though she's determined to be more diplomatic with parents and the school board, she doesn't intend to let Sam Sensenig tell her how to run her classroom, and she certainly doesn't intend to be swayed by his handsome face. She has a job to do, and it does not include catering to a spoiled adolescent or his cantankerous older brother. Now if only Mammi would quit knitting potholders for Sam…
---