This is one of my absolute favorite cakes! It takes a little work but isn't hard. The cake is so moist, and if you like pineapple and coconut, you are going to adore this cake! The original recipe is a Utah State Fair winner, and you can find the original recipe here.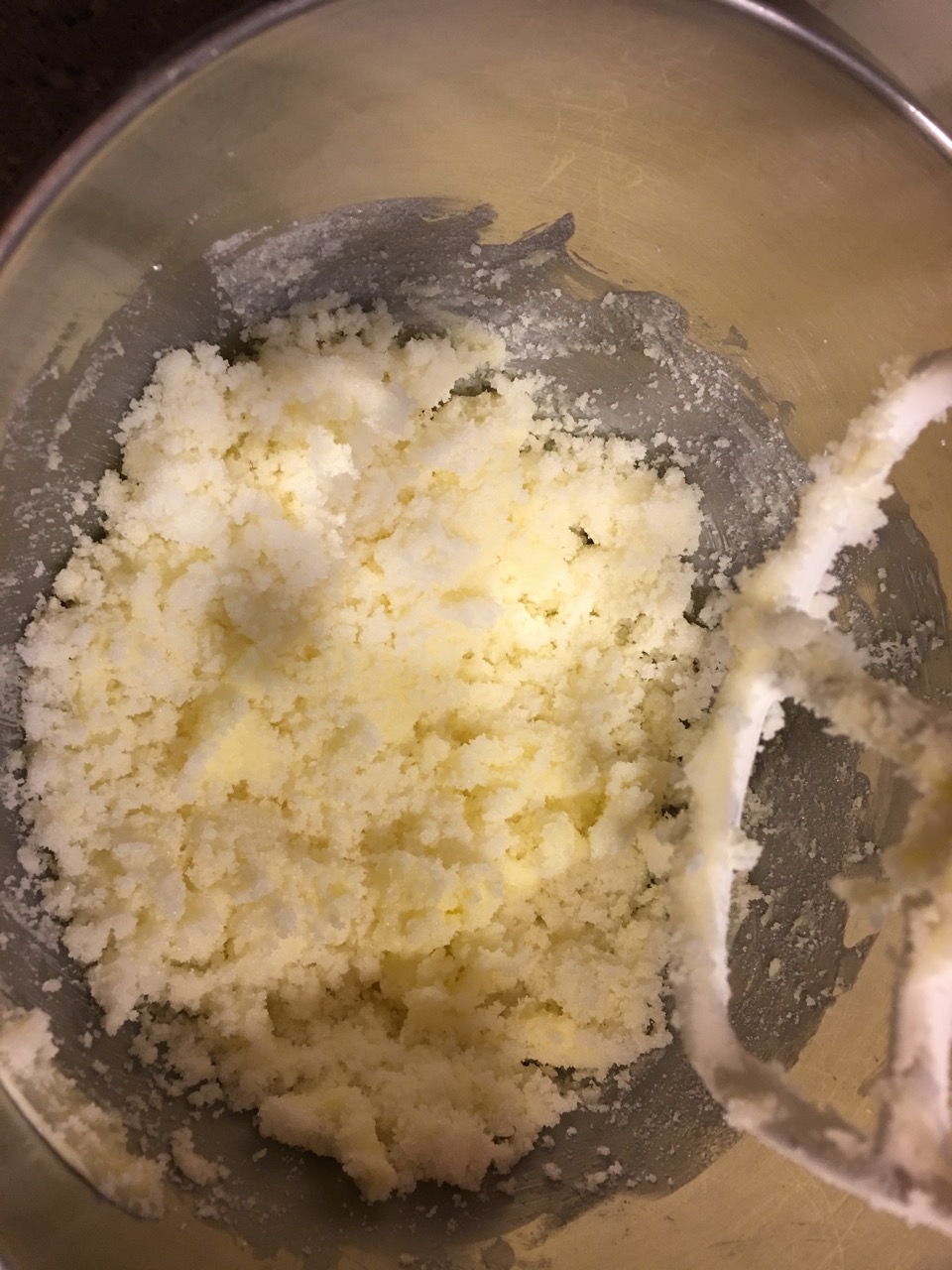 I use my trusty Kitchenaid for a lot of the mixing that is involved in this cake. Make sure the butter is nice and soft. I got some unwanted clumps because my butter was cold.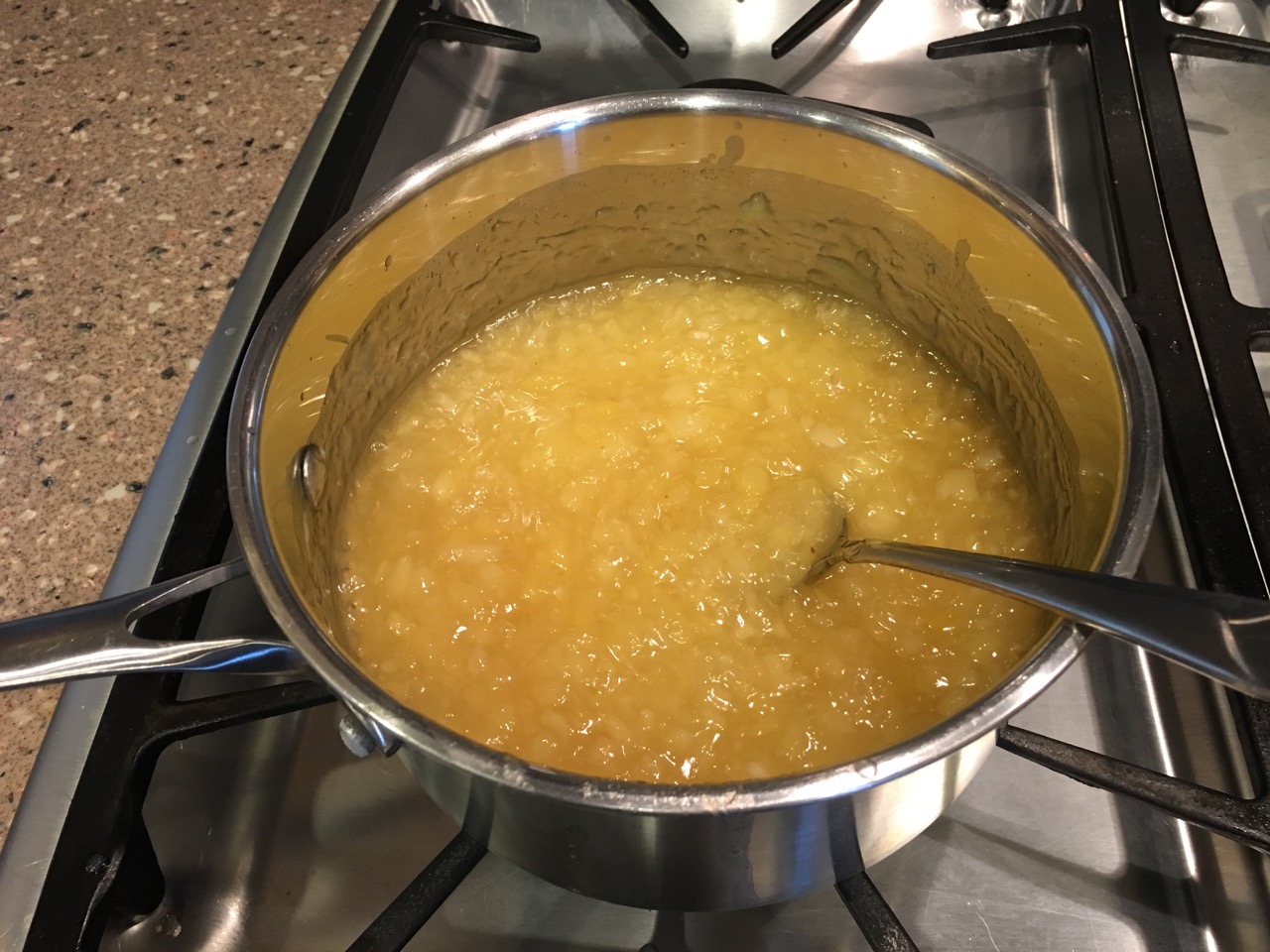 The pineapple filling is easy, but you have to watch it carefully so it gets thick but doesn't burn. I stir it frequently, almost constantly, to make sure it doesn't burn.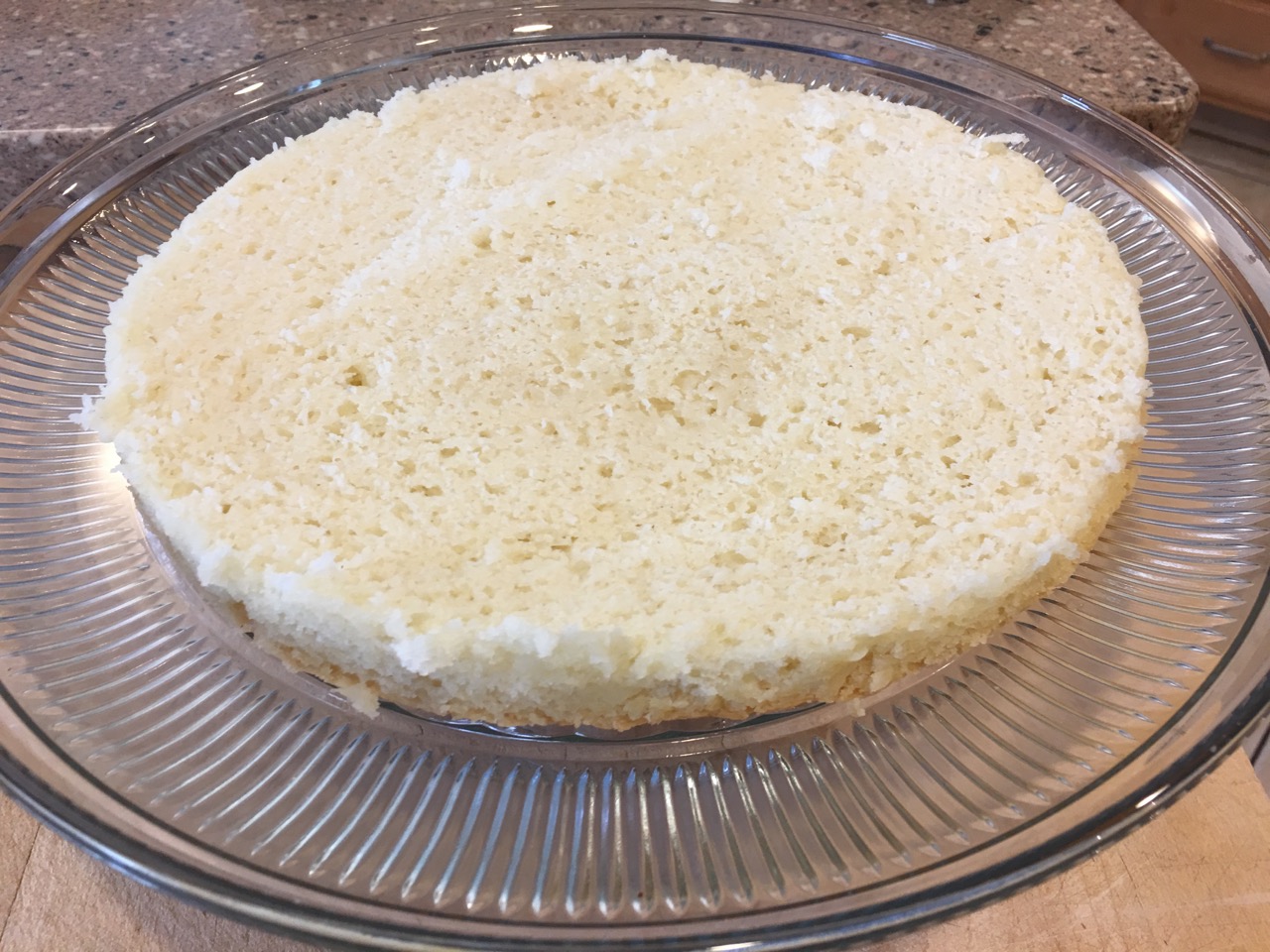 The most challenging part of making this cake is cutting the baked caked in half. It just takes a little patience and a very good bread knife. (On a side note, I watched the movie "Dark Waters" recently. I would highly recommend it. I was a little alarmed by what I learned in that movie and decided to get rid of all my nonstick pans, including my cake pans. If you line your regular pans with parchment paper, the cake comes out of the pan easily. No nonstick needed.)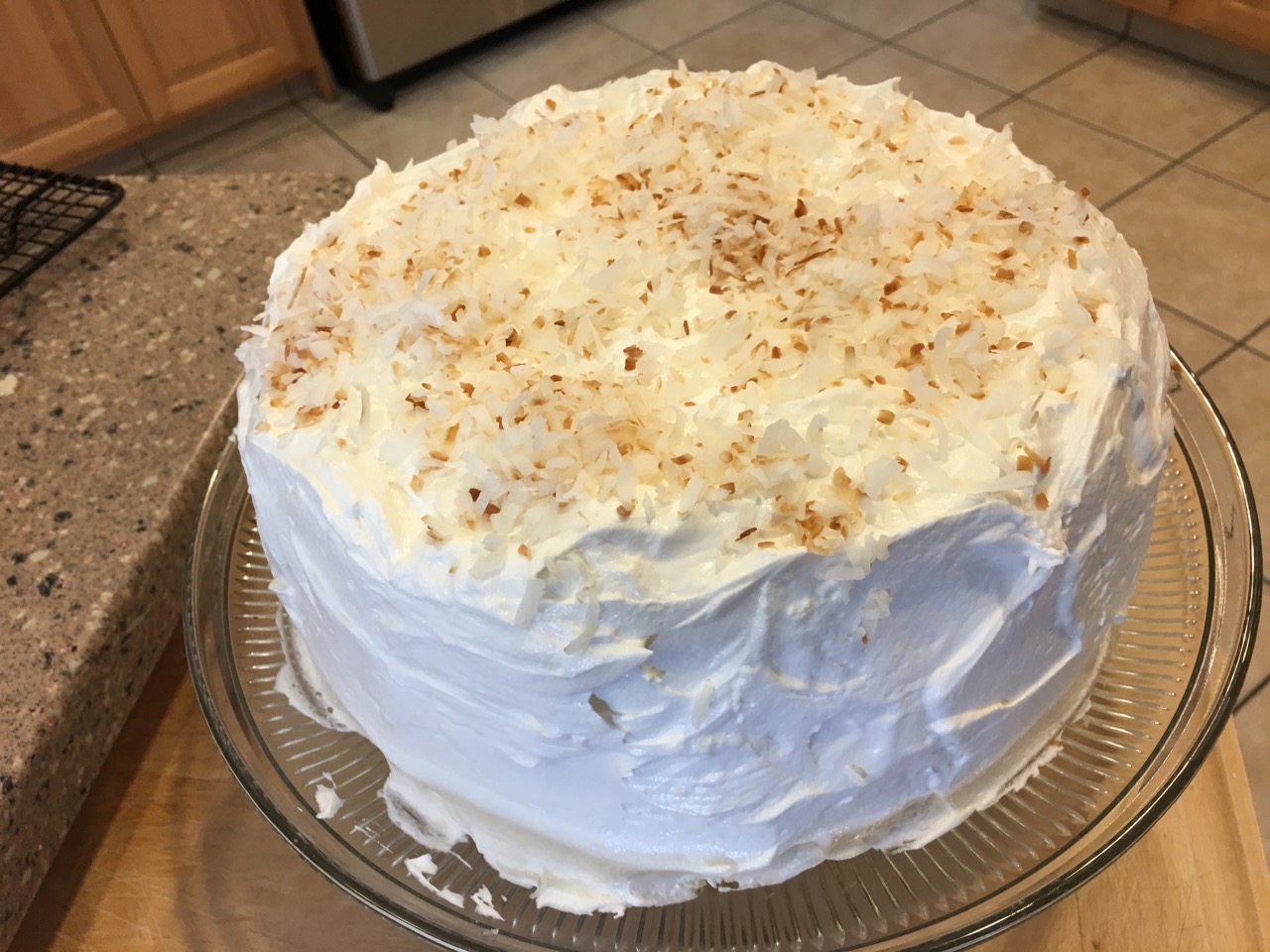 The frosting isn't thick, and the cake frosts easily. If you want the frosting thicker, reduce the Cool Whip to 12 ounces. The recipe makes a lot of frosting. I also garnished my cake with toasted coconut. I think it looks pretty. To toast coconut, just stir it in a fry pan over medium heat for 3 to 5 minutes.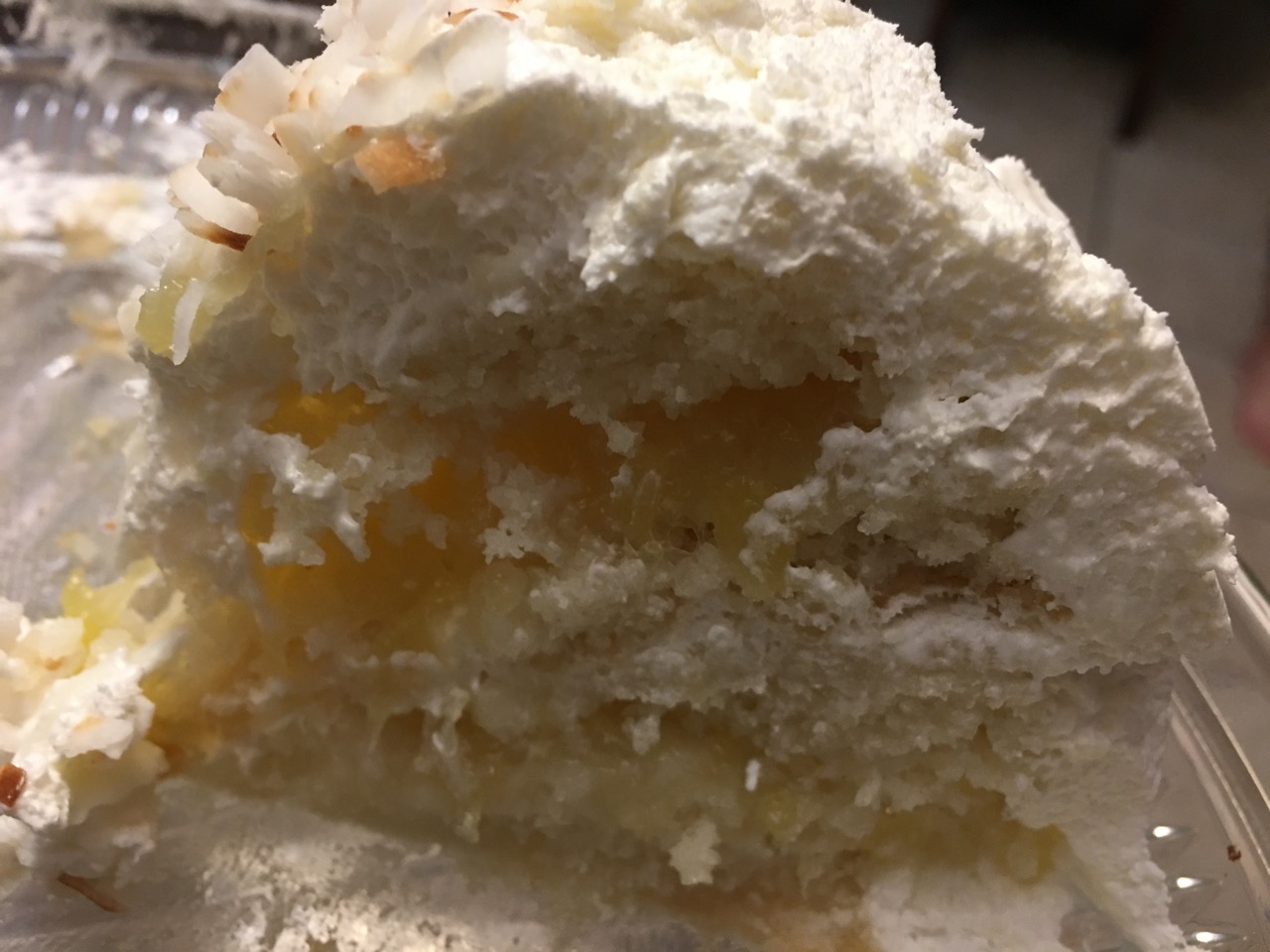 This cake got eaten so fast, I almost didn't get a picture of a slice. I took this photo, and literally ten seconds later, my son stabbed a fork into it and ate it off the cake plate–the last piece.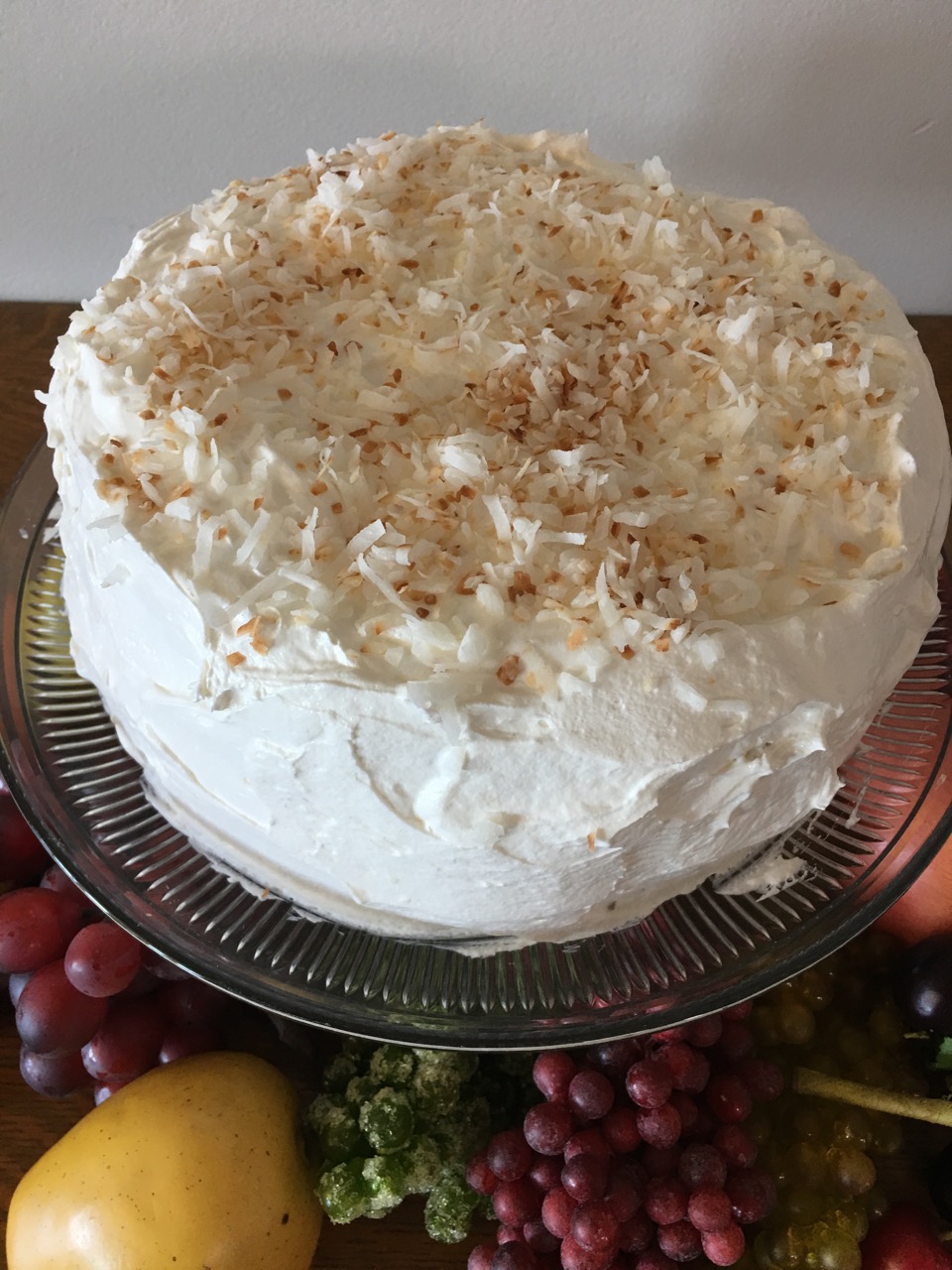 This cake will be the hit of any party you attend!
Delicious Pina Colada Cake

Total Time
1 hour, 15 minutes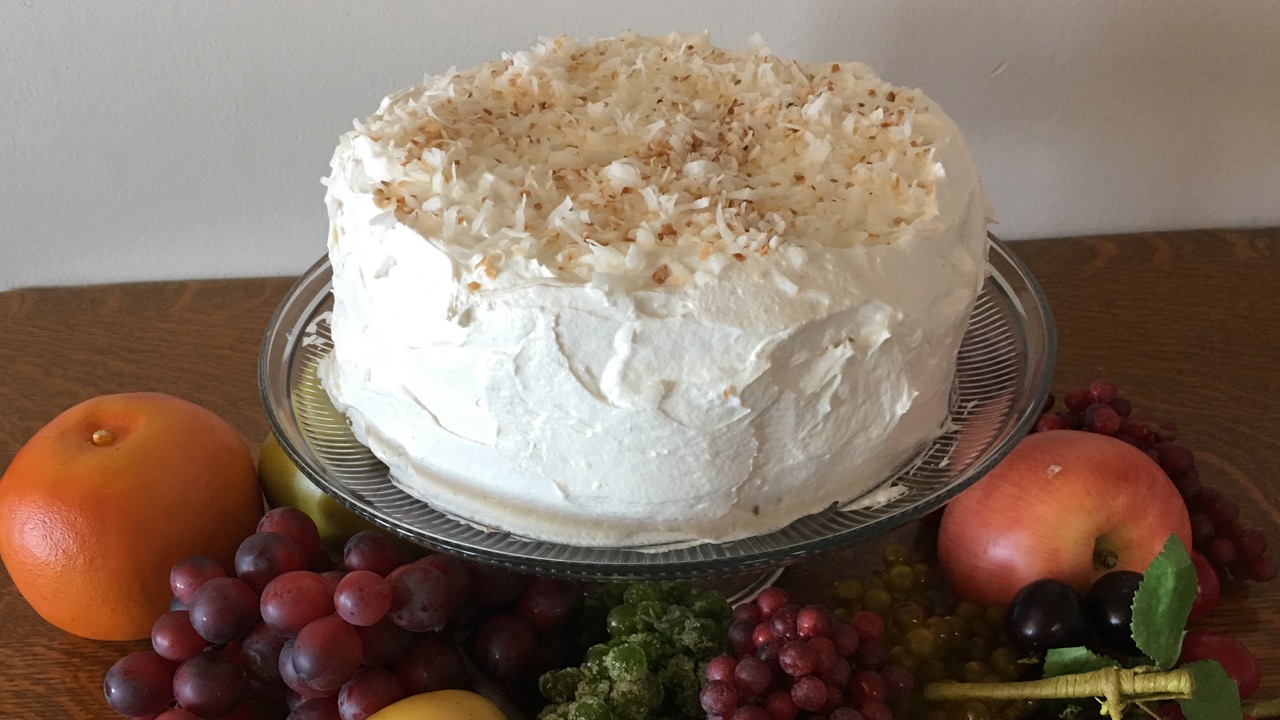 Ingredients
CAKE:
2 cups all-purpose flour,

sifted

1 tablespoon baking powder
1 teaspoon salt
1/2 cup unsalted butter,

room temperature

2 cups sugar
1-1/4 cups coconut milk
1-1/2 teaspoons coconut extract
5 egg whites
PINEAPPLE FILLING:
1 twenty-ounce (20 oz) can crushed pineapple
2/3 cup sugar
2 tablespoons cornstarch
FROSTING:
1 eight-ounce (8 oz) package cream cheese,

softened

2 tablespoons coconut milk
2 cups powdered sugar
1 teaspoon coconut extract
1 sixteen-ounce container whipped topping,

or 1-1/2 cups heavy cream, whipped

(using 16 ounces of whipped topping makes plenty of frosting. 12 ounces of whipped topping is plenty. This makes the frosting slightly thicker.)
1/4 cup coconut, toasted (optional)
Instructions
CAKE:
Mix flour, baking powder and salt together in a bowl and set aside.
Place the butter in a mixing bowl and beat on medium speed with a mixer for 1 minute. Add sugar and beat for another minute. Add coconut milk and coconut extract to butter mixture.
Gradually add flour mixture into the butter mixture and beat for 2 minutes.
In another bowl, beat egg whites until stiff peaks form. Fold the egg whites into the batter and mix until all ingredients are incorporated.
Grease and line two 8-inch cake pans and divide batter evenly between them.
Bake in a 350 degree preheated oven for 23-28 minutes until a toothpick inserted in the center of the cake comes out clean.
Remove the pans from the oven and place on a cooling rack for 5-10 minutes to cool before removing cake from the pans.
FOR THE PINEAPPLE FILLING:
In a saucepan combine all ingredients over medium heat. Cook, stirring frequently until mixture gets a glossy look. Set aside to cool.
FOR THE FROSTING:
Beat cream cheese in a bowl until smooth.
Add coconut milk, powdered sugar and coconut extract.
Mix well and then fold the whipped topping or cream into the mixture.
TO ASSEMBLE:
Cut both cakes open, making four 8-inch rounds.
On top of one, place half the pineapple filling and top with a cake layer.
Next add a layer of frosting, then a cake layer.
Place remaining pineapple mixture on the cake and top with the last cake layer.
Frost the sides and top of the cake. Sprinkle with coconut.
This is best when refrigerated for at least four hours.