The Matchmakers of Huckleberry Hill
The Helmuths' thirteen children are grown and moved away. Anna and Felty Helmuth, full of vinegar and spice, are looking to stir up a little excitement. What could be more fun than throwing two young people together to see if sparks ignite? And who would ever suspect two elderly Amish folks of mischief? With a little help from the Helmuths, Huckleberry Hill could turn out to be the most romantic spot in Wisconsin.
---
Huckleberry Christmas–Book 3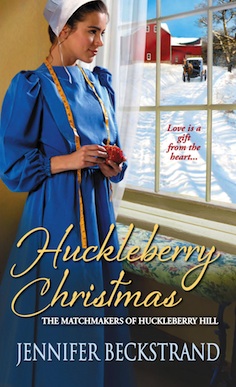 Young widow Beth Hostetler has come to Huckleberry Hill to start afresh and make her own way without the interference of her late husband's family. In addition to a feisty toddler, Beth has dresses to sew, cows to milk, and great-grandparents to care for. She doesn't have the time or the inclination to entertain thoughts of a husband, even if every widower and bachelor in Wisconsin seeks her hand. Her first marriage to a harsh, demanding man was hard enough. She is perfectly happy being alone, not answering to anyone but God. Tyler Yoder is no different than the rest. With his infuriating sense of duty, he sees Beth as a woman in need of rescuing. His offer of marriage doesn't tempt her in the least, but his handsome face and kind heart just might. Will this be the Christmas that she finally finds love?
After having been burned by love once, Tyler Yoder has given up on the whole idea of romance. He simply wants a godly wife with whom he can share companionship and the load of daily living. Beth Hostetler comes along at just the right time. She's a hard worker, an excellent mother, and a beauty, to boot. And, with a son to raise, she needs a man's protection. But when Beth spurns Tyler's marriage proposal and offers to help him find a proper Amish wife, Tyler realizes where his affections really lie. Will he be able to convince Beth that love is at the heart of his persistence? And will she accept his heart for Christmas?
"The third book in the heartwarming the Matchmakers of Huckleberry Hill series is a sweet romance with adorable characters who only want the people they love to be as happy as they are. The storyline is believable and runs smoothly with surprises along the way." – RT Book Reviews, 4 Stars

---
Buy now at Amazon.com
| BarnesAndNoble.com | BooksAMillion.com | WalMart.com