The Matchmakers of Huckleberry Hill
The Helmuths' thirteen children are grown and moved away. Anna and Felty Helmuth, full of vinegar and spice, are looking to stir up a little excitement. What could be more fun than throwing two young people together to see if sparks ignite? And who would ever suspect two elderly Amish folks of mischief? With a little help from the Helmuths, Huckleberry Hill could turn out to be the most romantic spot in Wisconsin.
---
Huckleberry Hearts – Book 6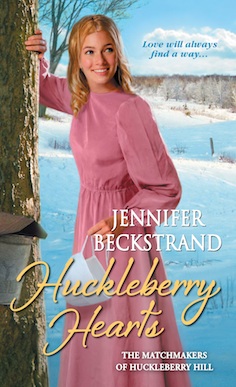 Though Cassie Coblenz left her Amish community to go to college, Mammi and Dawdi's farm will always feel like home. It's the ideal place for an extended study break—at least until her grandmother's handsome Englisch doctor becomes a regular distraction. Zach Reynolds is the kind of heartbreaker Cassie has learned to avoid, no matter how charming he may be.
Unlike every woman Zach has met in recent years, Cassie doesn't fall at his feet. Strong, generous, beautiful within and without—she's everything he could want. Yet the gulf between them deepens when a tragedy shakes his faith. Now the good doctor has one goal—to become a man who could be worthy of Cassie's love.
"Jennifer has put together an awesome story that made me laugh and made me cry.  Her writing style brings the characters to life in a way that invites you in and encourages you to stay for a nice, long visit. There are tender moments, hilarious moments, and crises of faith that bring up very real, very difficult questions." Southern Gal Loves to Read
"Beckstrand's gentle love story is brimming with everyday details about the Amish way of life, making it a sweet treat for fans of Beverly Lewis and Wanda Brunstetter." Booklist

---
BUY NOW at Amazon.com
| BarnesAndNoble.com | BooksAMillion.com | WalMart.com | Target.com [Audio Book]