The Matchmakers of Huckleberry Hill
---
The Helmuths' thirteen children are grown and moved away. Anna and Felty Helmuth, full of vinegar and spice, are looking to stir up a little excitement. What could be more fun than throwing two young people together to see if sparks ignite? And who would ever suspect two elderly Amish folks of mischief? With a little help from the Helmuths, Huckleberry Hill could turn out to be the most romantic spot in Wisconsin.
Huckleberry Spring – Book 4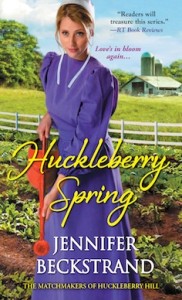 Ever since the Helmuths' grandson, Ben, abruptly broke his engagement and moved to Florida, Emma Nelson has kept busy tending her vegetable garden and raising award-winning pumpkins. She can put her heartache aside to help Ben's mammi with her own pumpkin patch. At least until Ben shows up to lend support to his ailing dawdi…
Gardening side by side with pretty, nurturing Emma is a sweet kind of torture for Ben. She could have her pick of suitors who can offer what he can't, and he cares too much to burden her with his secret. Leaving once more is the only option. Yet Emma's courage is daring him to accept the grace that flourishes here, and the love that has been calling him back to Huckleberry Hill.
"The much-loved matchmaker Anna Helmuth is back! Beckstrand is an amazing, talented author who gives the over-used matchmaking trope a fresh twist. The characters are sweet and caring, and the storyline runs smoothly." – RT Book Reviews, 4.5 Stars

---
BUY NOW at Amazon.com
| BarnesAndNoble.com | BooksAMillion.com | WalMart.com | Target.com [Large Print Edition]