The Honeybee Sisters
Lily, Poppy, and Rose Christner, known as the Honeybee Sisters in their Amish community, are smart, inseparable, and all grown up. Orphaned when they were very young, the girls were raised by their eccentric Aunt Bitsy, who doesn't behave like a proper Amish spinster. The Honeybee Sisters have blossomed into rare beauties, and the boys in the community have begun to take notice. But Aunt Bitsy is determined to scare off all comers with her brusque manner and her handy shotgun. None but the most worthy will make it past Bitsy's defenses. It's going to be a rowdy and romantic summer—harvesting honey from their many beehives and fighting off the boys right and left.
---
Like a Bee to Honey – Book 3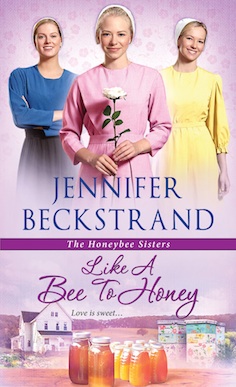 Ever since a traumatic childhood experience, Rose Christner has always been on the timid side, much happier quilting and painting than attending gatherings with the rest of die youngie. Josiah Yoder is enchanted by Rose's gentle ways and loving heart and knows he'll have to sort of grow on her if he ever hopes to win her affection without frightening her away. But when an disgruntled stranger bullies Rose, Josiah can't be subtle anymore. Will skittish Rose open her heart to new possibilities, or will she forever shy away? Will Aunt Bitsy send her cats to obedience school?
---
ORDER NOW at Amazon.com
| BarnesandNoble.com | BooksAMillion.com
---
"Beckstrand neatly, sweetly ties up her Honeybee Sisters trilogy of Amish romances continuing the warmth, gentle humor, and faith in human goodness."– Publishers Weekly
"The exploits of the Honeybee sisters, their unconventional Aunt B and the cats – Farrah Fawcett, Billy Idol and Leonard Nimoy – delight the readers once more. Highly recommended. A fabulous read." Christianbookaholic.com