The Petersheim Brothers
Things at the Petersheim house are getting too crowded for eight-year-old twins Alfie and Benji. As if things weren't bad enough with three older brothers hogging all the bacon at breakfast and using more than their fair share of toilet paper, Mammi and Dawdi Petersheim have to move in because of Dawdi's stroke. If Alfie and Benji have any hope of getting their own bedrooms, they have to get rid of their annoying brothers, and the only way to convince their brothers to move out is to make each of them fall in love. What could be so hard about that?
Andrew, Abraham, and Austin Petersheim make and sell gallons of homemade peanut butter every week, thus earning themselves the title of "The Peanut Butter Brothers" in their small community of Bienenstock, Wisconsin. The brothers are so busy making peanut butter, they don't have time for girls or romance. But Alfie and Benji have a knack for getting into trouble, and their mischief brings more than one girl to the door. Will the brothers be able to convince Alfie and Benji to behave themselves, or will the girls just keep coming around?
---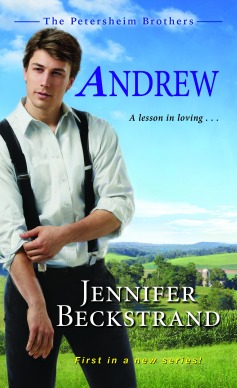 Andrew Petersheim has always been sure of himself and his place in his Amish community. He's a godly, hard-working man, and he knows any girl would be blessed to marry him. He can afford to be picky, and he hasn't yet met a girl good enough to capture his heart. Mary Coblenz certainly isn't that girl. She mysteriously disappeared from the community for nearly two years and then returned very pregnant with the stain of shame upon her. It doesn't matter how pretty she is or how vigorously she challenges his notions of forgiveness and Christian charity, Andrew refuses to fall in love with her.
Maybe Andrew is going to have a rude awakening!
Andrew is full of laughter, little boys, and lots of romance. Don't miss it!

---
PRE-ORDER ANDREW NOW (for 25 June release) at Amazon.com | BarnesAndNoble.com | BooksAMillion.com
---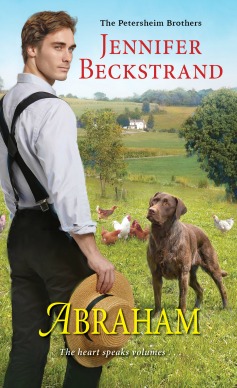 With their house full to bursting since Mammi and Dawdi moved back in, the Petersheim twins know the only way to get their bedroom back is to get their older brothers married off. But Abraham is so shy, he'll barely speak to girls. Still, they've noticed how he looks at Emma Wengerd at church. Emma is so talkative, Abraham's quiet ways wouldn't matter a bit. Soon, the boys have hatched a scheme that sends Abraham right to Emma's
door—and her chicken coop . . .
Abraham doubts that pretty, popular Emma would be interested in him. Yet when he finds himself by her side, having to straighten out the twins' mischief—more than once—he can't help imagining a future with her. And the more time they spend together, the more Abraham realizes that perhaps no matter how many boys buzz around Emma, with faith, it's only the right one that counts.
---
PRE-ORDER ABRAHAM NOW (for 26 November release) at Amazon.com | BarnesAndNoble.com | BooksAMillion.com