In Huckleberry Hill, the first book in my Matchmakers of Huckleberry Hill Series, Lia Shetler is an expert pie maker. Before fresh fruit is in season, Lia makes a raisin pie. I had to make one for myself to see if it was any good. My very nice son helped me. I absolutely loved it! It is incredibly sweet and surprisingly delicious. If you're a person who loves raisins, you won't find that surprising at all.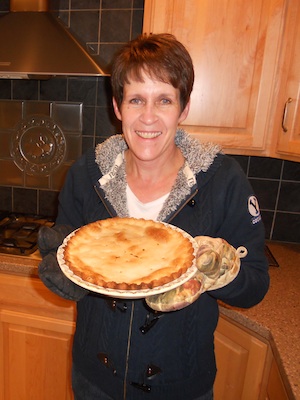 PIE CRUST
This is my favorite pie crust recipe. It makes enough for three crusts; you only need two for this pie so you can save the third for another use!
3 cups sifted flour
1 T. sugar
2 t. salt
1-1/4 cups vegetable shortening
1 egg
1/2 cup water
1 T. vinegar
Combine flour, sugar and salt in bowl. Cut in the shortening with a pastry blender. Beat the egg and mix the water and vinegar with the egg. Sprinkle small amounts at a time over the flour mixture, tossing lightly until all the particles are moistened. Mold into a ball and chill. Return to room temperature before rolling out. Line pie plate with bottom crust.
PREHEAT OVEN TO 450°
In a medium saucepan, combine:
2 cups water
1/2 cup white sugar
2 T. flour
1/4 t. salt
1/2 t. vanilla
1 T. butter
1 T. lemon juice
Mix well. Stir in 2 cups raisins. Simmer over low heat for 10 minutes, stirring frequently. Remove from heat. Pour raisin mixture into pastry-lined pie pan. Cover with second pastry. Seal edges and cut steam vents in top. Bake for 15 minutes, then lower the heat to 350 degrees and bake an additional 25 to 30 minutes.