Grandma Ricks' Nut Brown Bread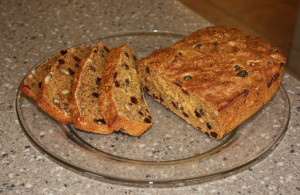 Amish Cooking is down-home cooking. My friend Debbie Hiller gave me this old family recipe for a quick bread that is hearty and sweet and oh-so-delicious!
Leave a comment to let me know how you liked it!
INGREDIENTS:
2/3 cup molasses
2 tsp. baking soda
2-2/3 cups buttermilk
1/2 cup sugar
1/4 tsp. salt
1-1/2 cups chopped walnuts
2 cups raisins (softened in hot water and drained)
2-1/2 cups whole wheat flour
2-1/2 cups white (all-purpose) flour
Mix together molasses and baking soda. Mix in all the rest of the ingredients. Divide the dough into three bread loaf pans sprayed with non-stick cooking spray. Bake at 350 degrees for 40-45 minutes.
---
Huckleberry Pie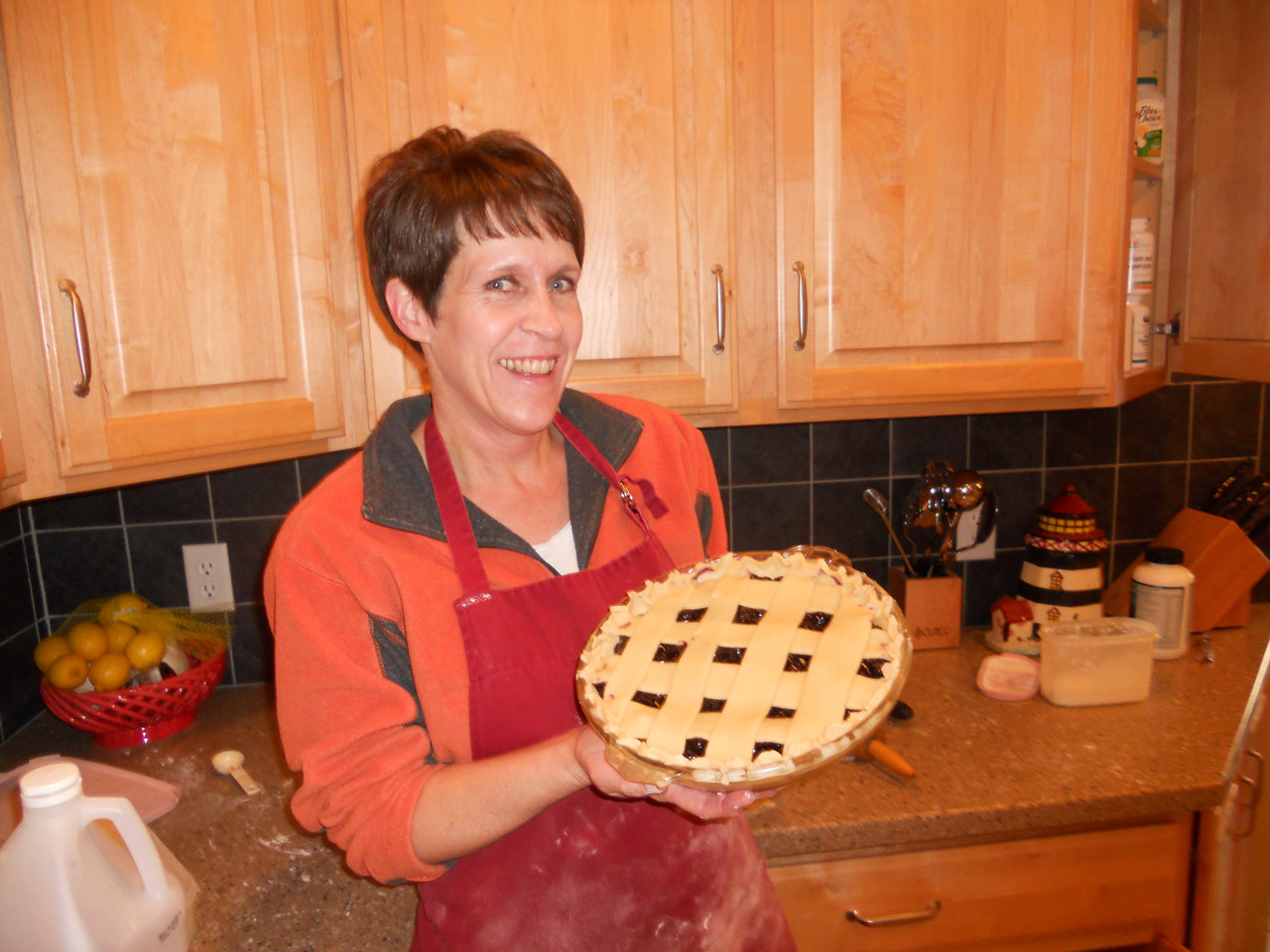 If you live on Huckleberry Hill, you eat a lot of huckleberries. Here is a sweet, mild recipe for huckleberry pie from my friend Lori Peterson.
INGREDIENTS:
2 T cornstarch
2 T flour
1/4 cup sugar
Pinch of salt
1 quart bottled huckleberries
Separate huckleberries from juice. Mix cornstarch and flour with a little portion of the huckleberry juice. On medium heat, heat remaining juice from the huckleberries in a medium saucepan. Add sugar and salt then the cornstarch mixture. Stir constantly over medium heat until thickened. Remove from heat and add huckleberries. Pour into unbaked pie shell. Add top crust and cut slits to vent. Bake 375 for 40-50 minutes.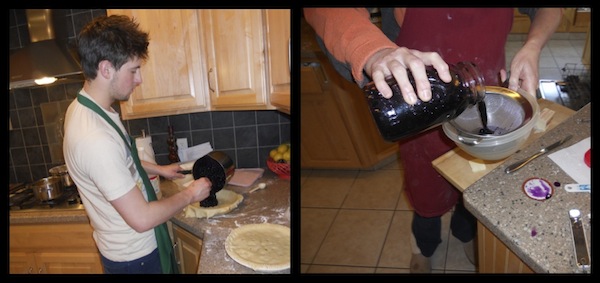 ---
Fancy Three-Layer Jell-O Salad
Here is an authentic Amish recipe for a festive Jell-O salad that my Amish friend Priscilla gave me. May all the desserts you eat never make it to your hips. 😉
1st Layer:
3-1/2 cups water
2 3-oz. packages of lime Jell-O
1 20-oz. can crushed pineapple crushed, drained
2nd layer:
1 pint whipping cream
8 oz. cream cheese, softened
2 envelopes unflavored gelatin
Juice from the drained can of pineapple.
3rd layer:
2 3-oz. packages of cherry or strawberry Jell-O
3-1/2 c. water
Directions:
1st layer:
Boil water. Add Jell-O and stir until dissolved. Add pineapple. Pour into oblong cake pan or Jell-O mold and chill.
2nd layer: Soak gelatin in pineapple juice. Cook according to gelatin directions and cool completely. Whip cream, and beat in cream cheese. Stir juice and gelatin into cream mixture. Layer on top of chilled Jell-O layer. Chill.
3rd layer: Boil water. Add Jell-O and stir until dissolved. Pour over chilled 2nd layer. Chill.
Serve. Yummy!
---
Festive Jell-O Salad
This is a wonderful salad for the holidays. It's pretty, festive, and delicious!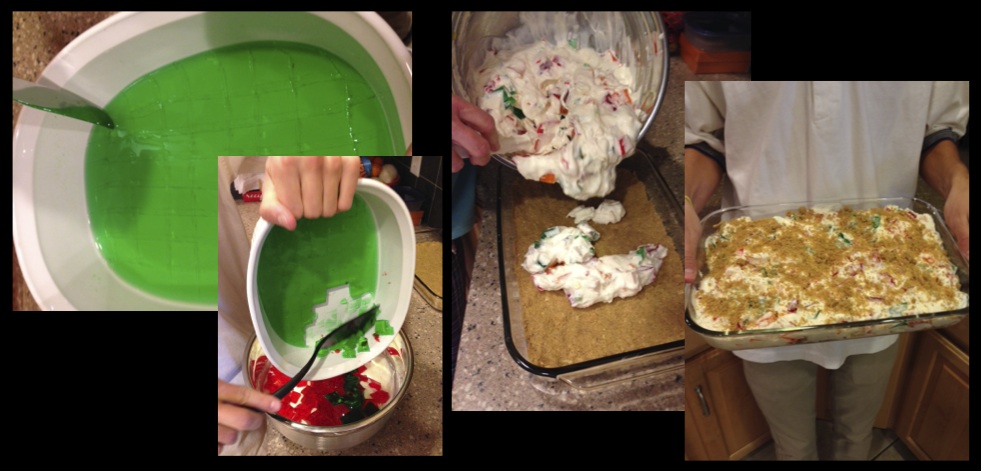 INGREDIENTS:
1 3-oz. package of strawberry Jell-O
1 3-oz. package of orange Jell-O
1 3-oz. package of lime Jell-O
1 3-oz. package of lemon Jell-O
1 cup pineapple juice
1/4 cup sugar
1-1/2 cups whipping cream
2 cups graham cracker crumbs
1/2 cup butter
Make crust by melting butter and mixing with graham cracker crumbs. Press all but 1/3 cup of crumb/butter mixture into the bottom of a 9×13 pan. Set aside.
Pour the strawberry, orange, and lime jello into three separate shallow pans.
Add 1-1/2 cups boiling water to each shallow pan (1-1/2 c. water for EACH pan) and stir to dissolve the Jell-O.
Once the Jell-O is dissolved, put the three pans in the fridge until the Jell-O is firmly set.
In a medium saucepan, mix together 1/4 cup sugar and 1 cup pineapple juice. Bring to a boil, stirring constantly. Once the mixture boils, remove from heat and dissolve the lemon Jell-O into it. After it dissolves, add 1/2 cup cold water to cool it. Let mixture set in the fridge until syrupy.
Beat the whipping cream until soft peaks form. Stir the syrupy lemon Jell-O/pineapple mixture into the whipping cream.
Cut the set-up strawberry, orange, and lime jello into half-inch cubes. Use a spatula to slide Jell-O cubes from pans. Gently fold Jell-O cubes into whipped cream mixture.
Spread this Jell-O/whipped cream mixture evenly over the graham cracker crust and sprinkle remaining crumbs over the top.
Refrigerate at least an hour (or overnight).
---
Raisin Pie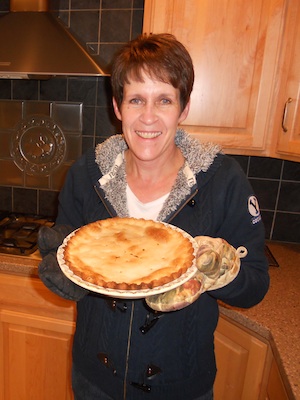 In Huckleberry Hill, the first book in my Matchmakers of Huckleberry Hill Series, Lia Shetler is an expert pie maker. Before fresh fruit is in season, Lia makes a raisin pie. I had to make one for myself to see if it was any good. My very nice son helped me. I absolutely loved it! It is incredibly sweet and surprisingly delicious. If you're a person who loves raisins, you won't find that surprising at all.
PIE CRUST
This is my favorite pie crust recipe. It makes enough for three crusts; you only need two for this pie so you can save the third for another use!
3 cups sifted flour
1 T. sugar
2 t. salt
1-1/4 cups vegetable shortening
1 egg
1/2 cup water
1 T. vinegar
Combine flour, sugar and salt in bowl. Cut in the shortening with a pastry blender. Beat the egg and mix the water and vinegar with the egg. Sprinkle small amounts at a time over the flour mixture, tossing lightly until all the particles are moistened. Mold into a ball and chill. Return to room temperature before rolling out. Line pie plate with bottom crust.
PREHEAT OVEN TO 450°
In a medium saucepan, combine:
2 cups water
1/2 cup white sugar
2 T. flour
1/4 t. salt
1/2 t. vanilla
1 T. butter
1 T. lemon juice
Mix well. Stir in 2 cups raisins. Simmer over low heat for 10 minutes, stirring frequently. Remove from heat. Pour raisin mixture into pastry-lined pie pan. Cover with second pastry. Seal edges and cut steam vents in top. Bake for 15 minutes, then lower the heat to 350 degrees and bake an additional 25 to 30 minutes.