The Reluctant Groom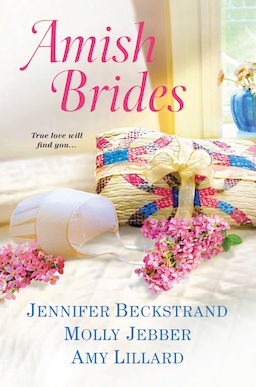 Suvie Newswenger is in a pickle. She's twenty-eight years old and has already turned down three perfectly good marriage proposals, but Suvie refuses to settle for just any boy in the community, and that's why she has her eye on handsome, brooding Aaron Beachy, Anna and Felty Helmuth's great-grandson. Aaron is kind, humble, and godly, and his wife has been gone for almost three years. But snagging a husband like Aaron will take single-minded determination and every trick the matchmakers of Huckleberry Hill have up their sleeves. Can Suvie, with the help of Anna's Spam-and-asparagus casserole, convince Aaron to open his heart and find love again?
 
Aaron Beachy's world stopped turning when his wife, Mary, died only a few months after they'd said their vows. Now he's going through the motions of living, planting crops, attending gmay, caring for his animals, determined to remain true to Mary's memory no matter how lonely he is. Even the thought of marrying again would be disloyal to his first love. But Suvie Newswenger has an uncanny ability to make him forget his heartache and light the fire of hope within his heart. Will he be able to resist her irresistible smile, or will she yank him out of his gloom without his permission?

---
The Reluctant Groom
, a part of the
Amish Brides
anthology with stories by me, Molly Jebber, and Amy Lillard.
Amish Brides
is now available! There's lots of romantic summer reading in store.
---
Now Available!