I love quilts. It's one of the reasons I made my heroine in my latest series an Amish quiltmaker. I had so much fun writing about Esther Zook's quilts. Esther always has a quilt on her frames in her front room so that she can take a few stitches whenever she has time. The quilts I wrote about in the book are all quilts I have seen somewhere, quilts I own, or quilts I have actually made. Here is a photo list of all the quilts mentioned in The Amish Quiltmaker's Unexpected Baby.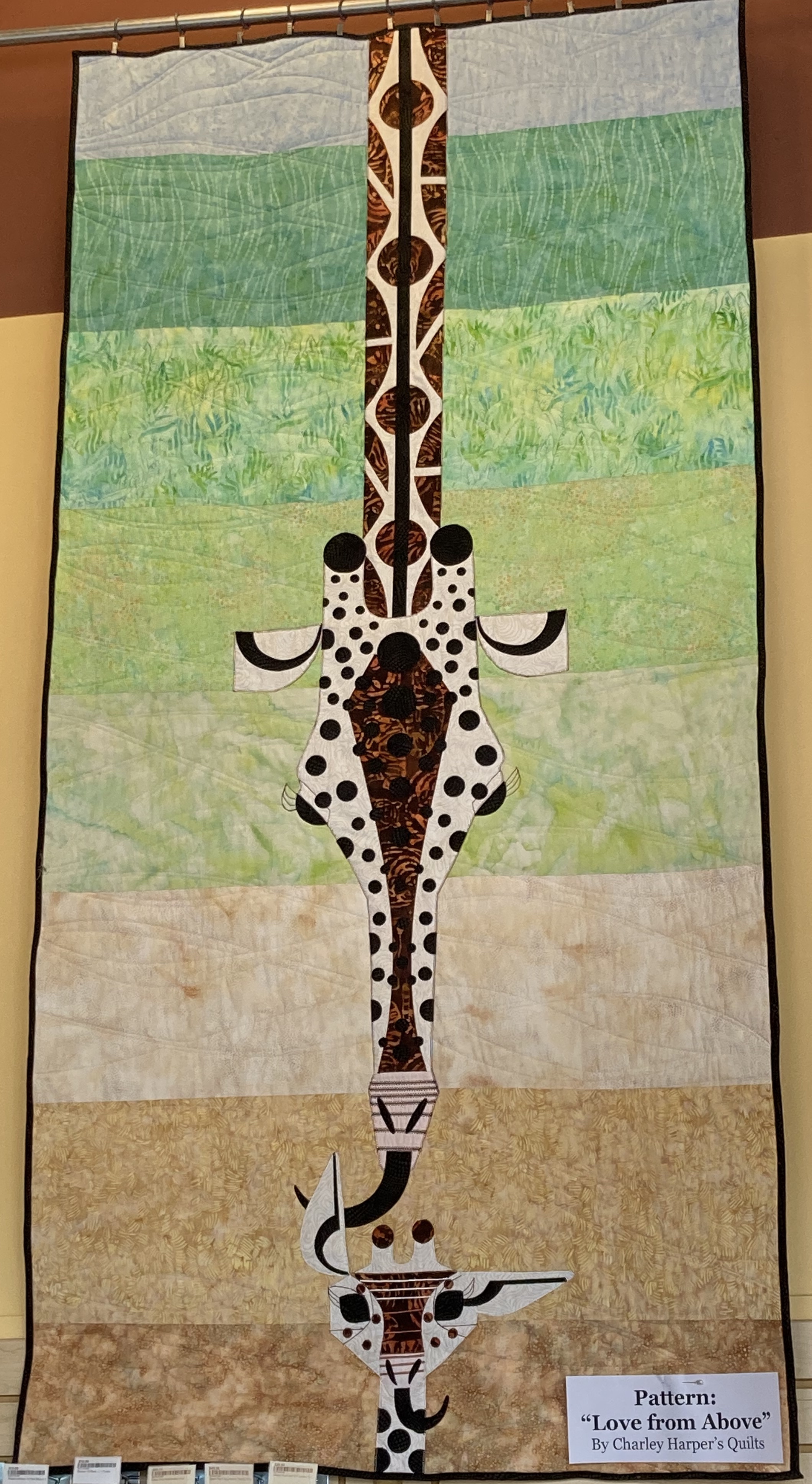 This is the first quilt that appears in The Amish Quiltmaker's Unexpected Baby. Levi walks into Esther's house and notices this quilt. He even compliments Esther on how nice it is. This quilt is hanging on the wall at a local quilt shop. I think the giraffe pattern is so darling, and I just had to put it in the book. People are so creative, and quilts are such a fun way to express creativity.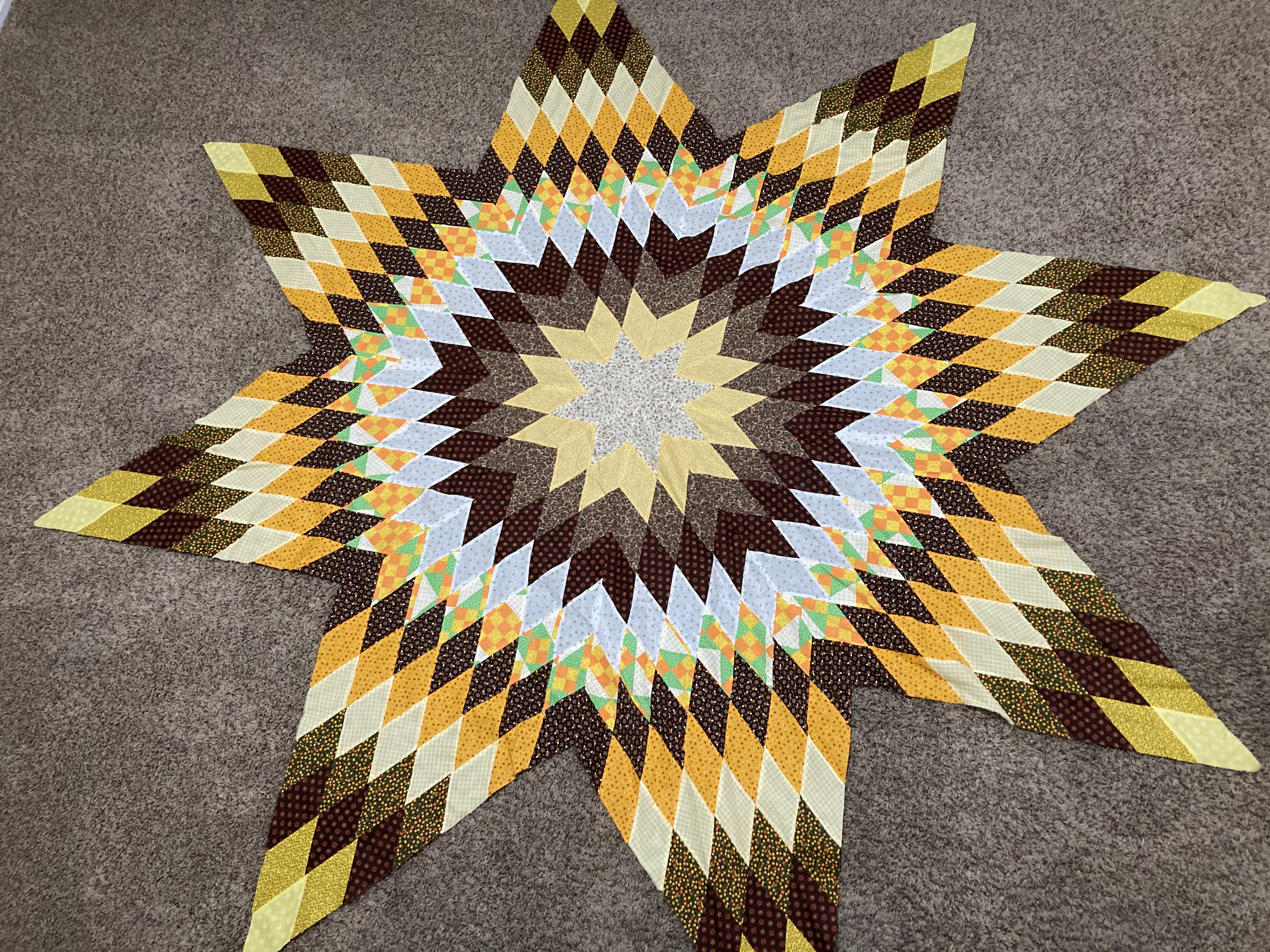 This Lone Star quilt top is the second quilt mentioned in the book. You get to know Esther's new quilting group while they are working on this quilt. The top is one I made when I was 15 years old. It is a Lone Star pattern including beautiful yellows and browns. As a teenager, I made dresses for myself from at least three of the fabrics in this quilt top. I love the Lone Star pattern because it seems to move from the middle to the outside points. I never finished this quilt, and I don't know if I have the time or the talent to finish it now. But I sure do love it!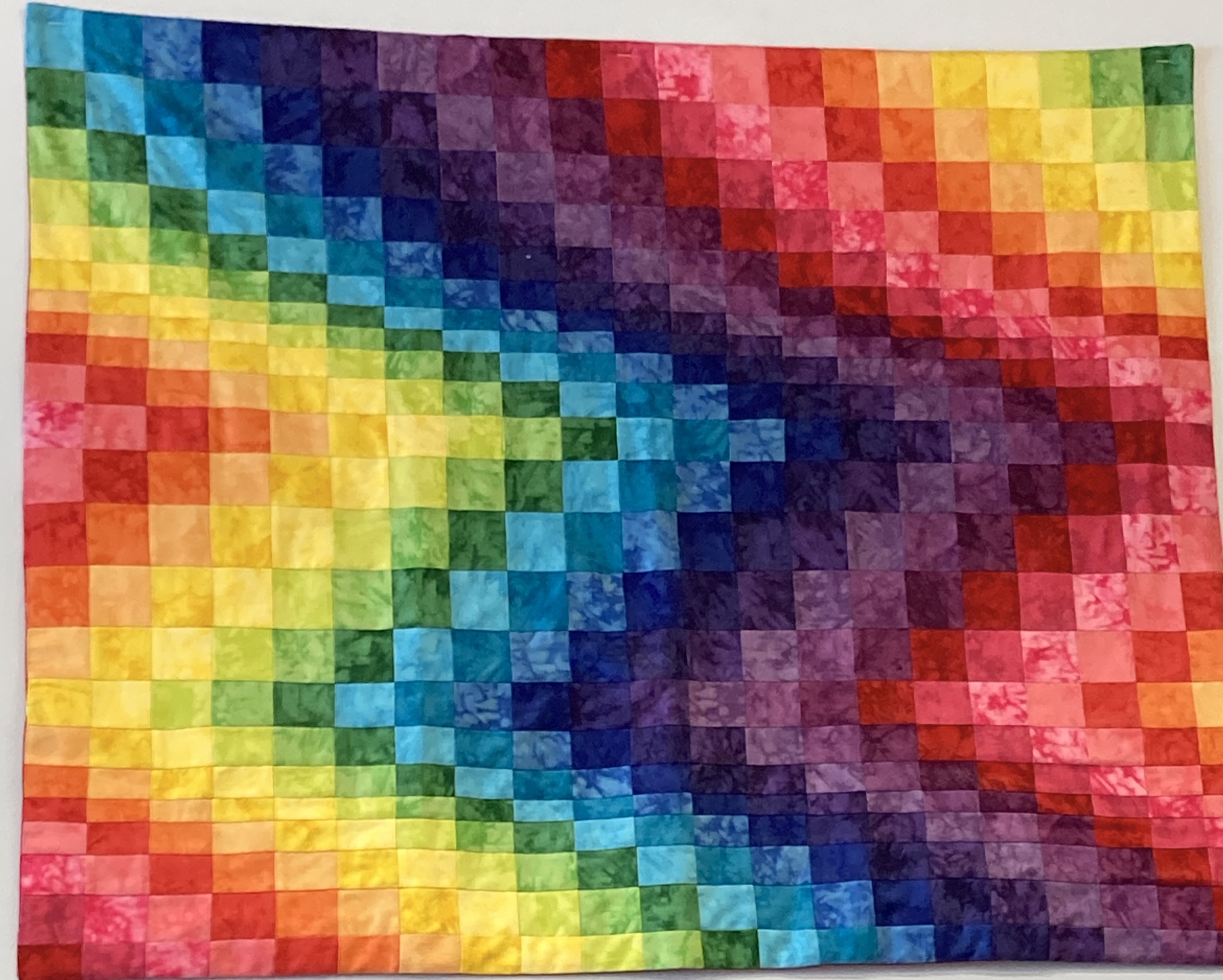 One thing I love about quilts is how all different colors can come together to create something truly beautiful. And practical. This rainbow quilt is mentioned in The Amish Quiltmaker's Unexpected Baby, and I just love it. It is also hanging in my local fabric shop.
On one trip to Wisconsin, we spent a day in Wautoma, where there is a small Amish population and many small Amish businesses. You have to know where to look for Amish businesses in Wautoma, because Wautoma is not a tourist town,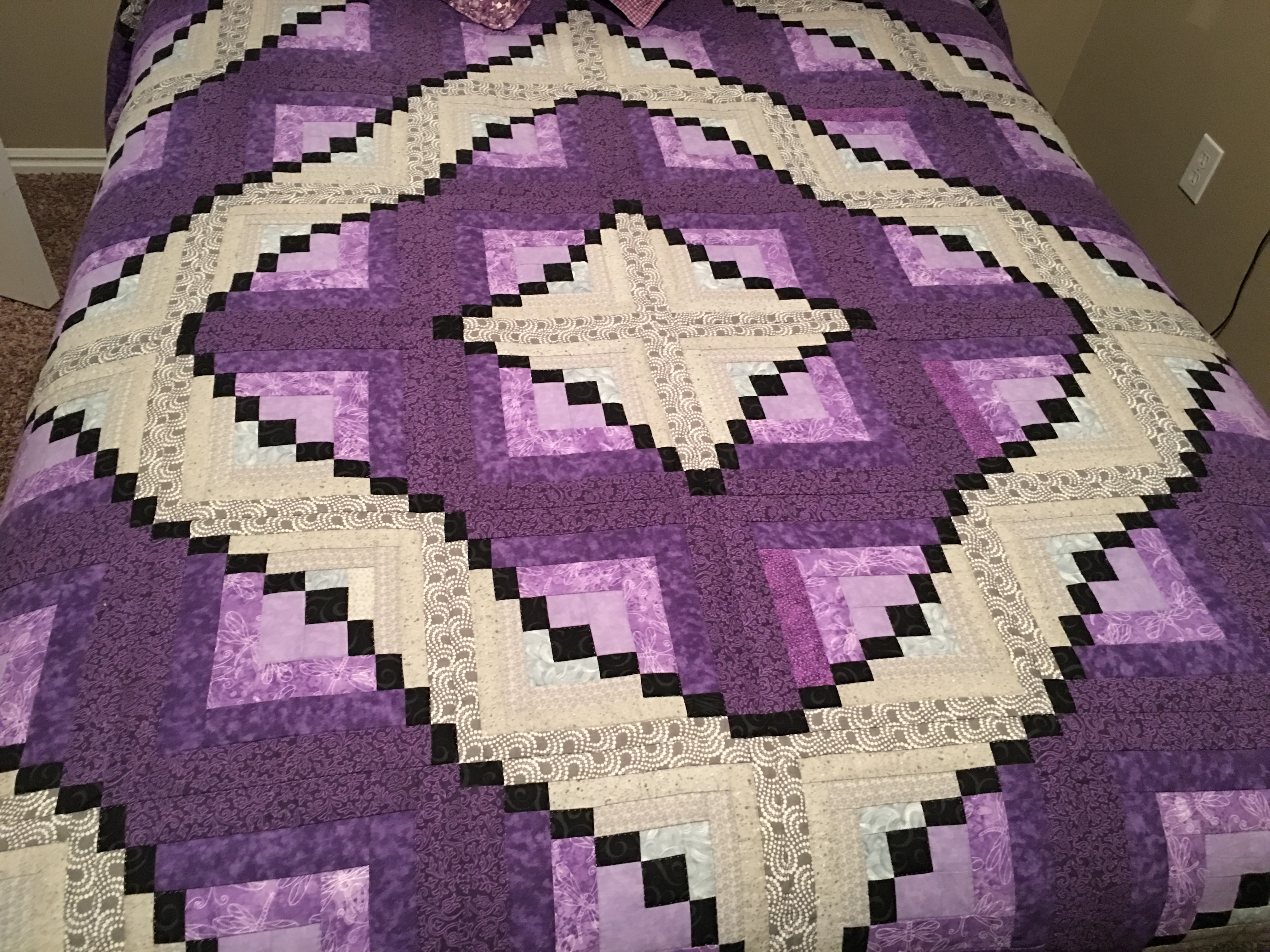 and the businesses are definitely off the beaten path. We drove down the main road and just happened to see a sign in front of a house advertising quilts. We almost missed it. We knocked on the door, and a cute Amish lady showed us her small room bursting with quilts. The room was about as big as a good size bathroom, and there were probably fifty quilts hanging from a pole connected to the ceiling. I just couldn't resist this purple quilt with its moving patterns and intricate design. If you are a quilter, you can see that this quilt is a modified Log Cabin design. Log Cabin is one of my favorite quilt blocks. No wonder I bought it! After we visited the quilt shop, the Amish woman gave us a hand drawn map of all the other Amish businesses in Wautoma. We found a candy shop where we bought the most delicious chocolate peanut butter truffles I have ever tasted.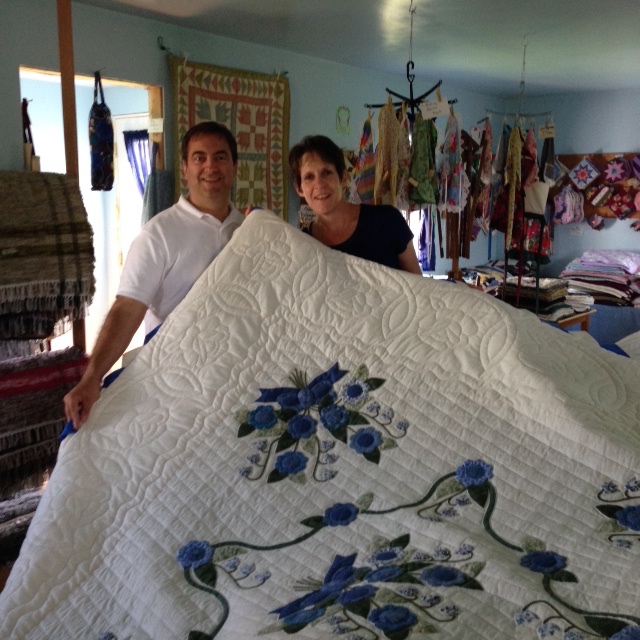 This appliqué quilt is also one I bought in Wisconsin in a bigger shop in Cashton. The shop was a huge room with (as I remember it) four queen size beds just piled with quilts. We pulled back the quilts, layer after layer, and it was a feast for the eyes! Appliqué is much harder than just sewing squares together. My sister is an appliqué master, but I have never tried it. It's too advanced for my quilting skills.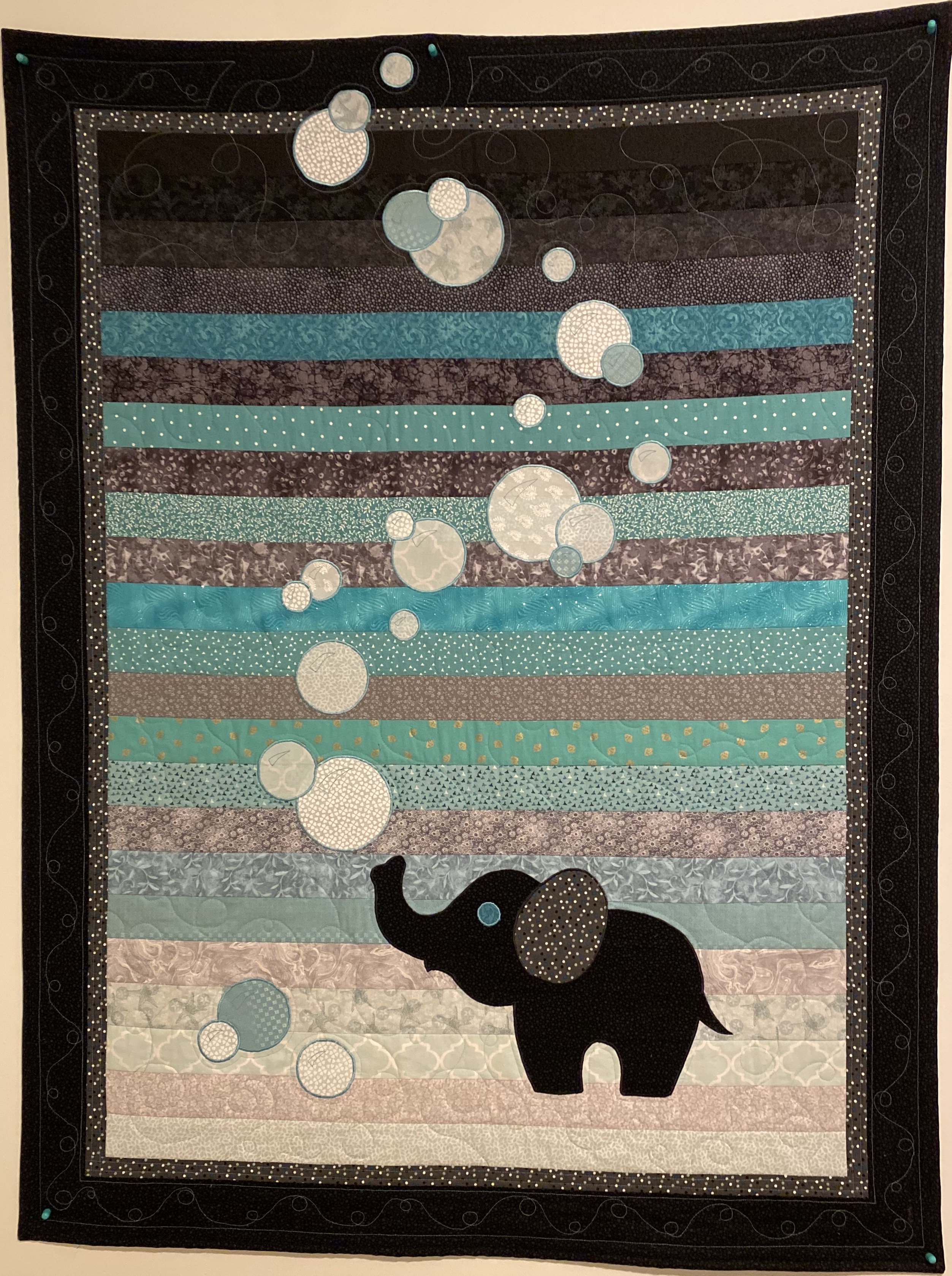 This elephant quilt is one that my sister made for my daughter's baby. I just think it is so darling. It features an ombre pattern–which means the colors go from light at the bottom to dark at the top. This is one of my favorite baby quilts.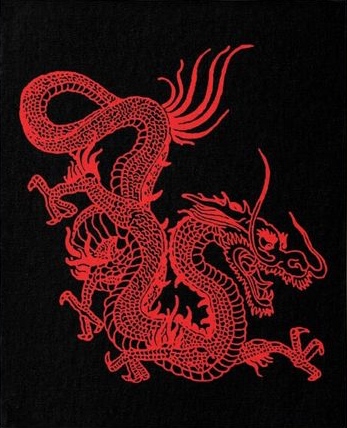 I couldn't find a dragon quilt exactly like the one described in the book, so here is a photo of how I partly imagined it would look. An Englisch customer hires Esther to make this quilt. It's most definitely not a traditional Amish creation. Rosita tells Esther that she thinks it's very ugly, but Esther likes it because the thread in the stitching provides the color on the quilt–a reminder that we can find beauty in our darkest times if we are willing to look.
You can buy The Amish Quiltmaker's Unexpected Baby at Walmart or online at Amazon, Barnes and Noble, or Walmart.