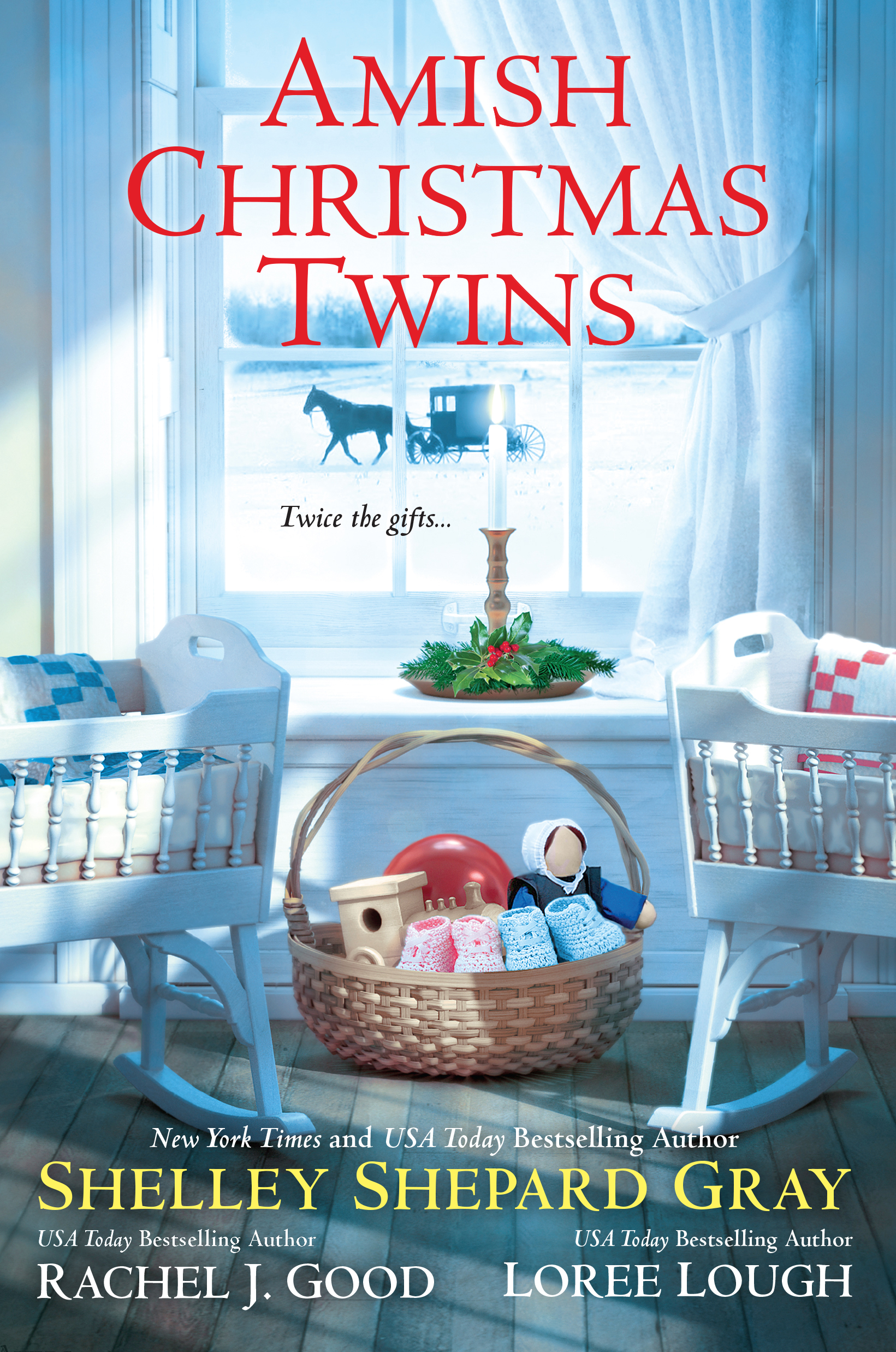 I am thrilled to be participating in Amish Christmas Miracles, a collection of 14 Amish Christmas romances by 14 of your favorite Amish fiction authors. If you haven't preordered your ebook copy for 99 cents, now is a great time before the price goes up to $9.99 on November 15! Preorder at BarnesandNoble.com or Amazon.com or the Apple Bookstore. It's sure to bring you hours of Christmas delight!
It's my pleasure to introduce one of the authors participating in the collection. USA Today bestselling author Rachel J. Good writes life-changing, heart-tugging novels of faith, hope, and forgiveness. She grew up near Lancaster County, Pennsylvania, the setting for her Amish novels. Striving to be as authentic as possible, she spends time with her Amish friends, doing chores on their farm and attending family events.
Rachel is the author of several Amish series in print or forthcoming – the bestselling Love & Promises, Sisters & Friends, Unexpected Amish Blessings, Surprised by Love (2021), and two books in Hearts of Amish Country – as well as the Amish Quilts Coloring Books. In addition, she has stories in many anthologies, including Love's Thankful Heart, Love's Christmas Blessings, Plain Everyday Heroes, Love's Truest Hope, and her two newest holiday titles, Amish Christmas Twins (Sept. 30, 2020) with Shelley Shepard Gray and Loree Lough and Amish Christmas Miracles (Nov. 11, 2020) with 13 other authors. She is also the coauthor of the Prayerful Author Journey: Inspirational Yearly Planner.
Here are some of Rachel's experiences while doing research in Lancaster County, PA:
I love novels that explore interesting new angles about the Amish community. To come up with ideas and make my books as authentic as possible, I spend time with Amish friends and research details by going to all the locations I write about. That has led to many interesting experiences.
While working on my Love and Promises series, I started with an Amish special needs school in book 1, The Amish Teacher's Gift. I had no idea such schools existed until we asked Amish friends what they'd do when their autistic child reached school age. As soon as I heard they'd send her to an Amish school for children with special needs, I wanted to visit one.
That also gave me the idea to deal with other issues that affect the Amish community, such as inherited diseases. Because the Amish began as a small, tight-knit community, today's Amish often share distant ancestors. That means they may end up with genetic diseases. I attended a seminar put on by a research center Strasburg, PA, the Clinic for Special Children, where they were studying Amish and Mennonite inherited diseases. Most of the diseases are only found in these two communities.
When I went to tour the center, I found out they treat Amish children there along with doing research. That explained the hitching posts and a covered shed with water and shelter for horses. We not only got to meet some of the families who were bringing their children to the clinic, but we had a chance to watch a fascinating array of machines that separate genes and diagnose diseases. Of course, my heroine in book 2 of the series, The Amish Midwife's Secret, needs to save a baby with a genetic disease. She also works in her family's natural products store, which meant we also spent time in one of my favorite Amish stores, learning about various herbal cures.
I continued the theme of unusual settings when I began my Unexpected Amish Blessings series. Book 1, His Unexpected Amish Twins, is set on a horse therapy farm, which helps the twins deal with their grief after their parents' death in a buggy accident. Of course, their bachelor uncle has a trauma of his own that Hope, the Amish owner of the farm, wants to help him overcome. I came up with the idea while observing a boy during his therapy session. After talking to the owner and instructor and finding out more from other animal therapists, I came away with a good understanding of how horse therapy can help children and adults heal.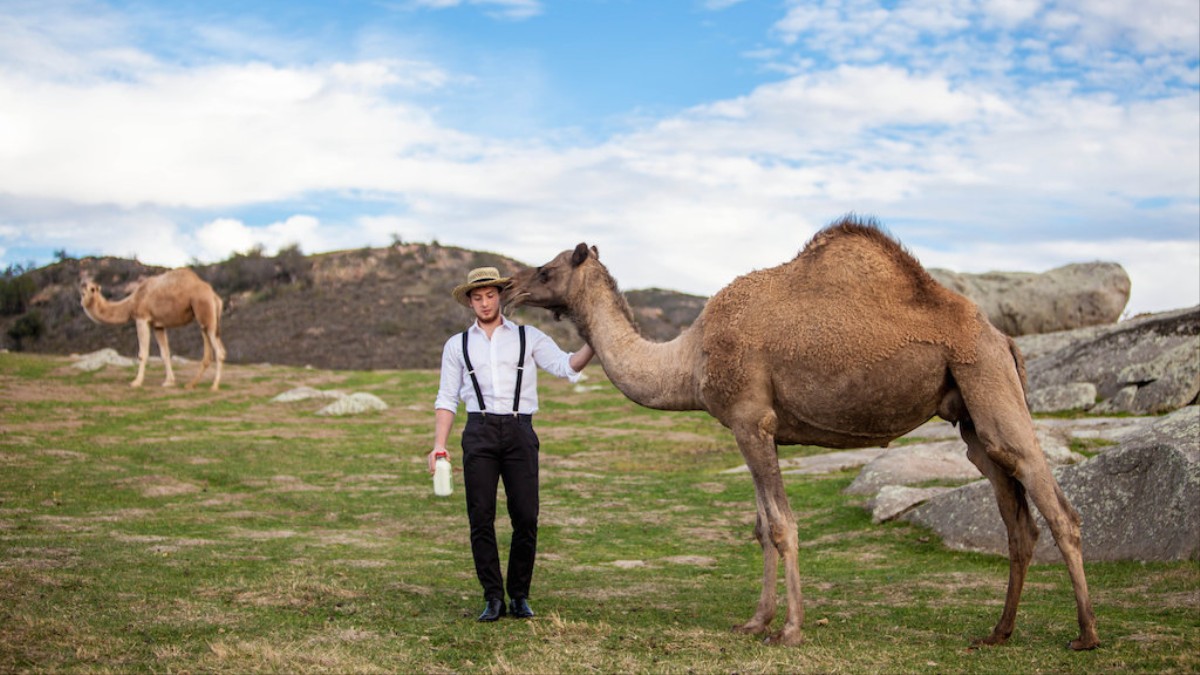 One of my favorite research trips was for Book 2 in that series, His Pretend Amish Bride, which is set on an Amish camel farm. When we first passed that farm in Bird-in-Hand, PA, I stopped to take pictures and visit the farm store, where I bought camel's milk. Yes, I drank it. I believe in immersing myself in research. Not only are the mama and baby camels adorable (as long as you don't get within spitting distance – something the villain in the story probably wishes he'd known), but the farm also has water buffalo (possibly an idea for another story). I went back several times to learn as much as I could about raising and milking camels, and I also studied research articles on the healing effects of camel's milk. I like to surprise readers with unexpected details.
Each trip to Amish country – to visit friends or research a location – has been special. It's hard to choose just one favorite. In each book, I try to give readers a taste of my experiences, so they'll get to know the Lancaster area. Sometimes, readers will go to these locations to see them for themselves. But for those who cannot make the trip, I hope they come away from each book feeling as if they've traveled there too.
Connect with Rachel:
Website: www.racheljgood.com
Facebook: www.facebook.com/racheljgoodnovels
Twitter: https://twitter.com/racheljgood1
Pinterest: www.pinterest.com/racheljgood1/
Amazon: www.amazon.com/Rachel-J-Good/e/B019DWF4FG
Bookbub: www.bookbub.com/authors/rachel-j-good
Instagram: www.instagram.com/rachelj.good
Newsletter sign-up: http://bit.ly/1qwci4Q
Hitching Post: https://www.facebook.com/groups/196506777789849/
About Amish Christmas Twins
In these heartwarming, faith-affirming stories, three Amish families face the joys and challenges of the holidays—with fruitful results . . .
THE CHRISTMAS NOT-WISH  by New York Times and USA Today Bestselling Author Shelley Shepard Gray
When the foster parents they've cautiously grown to love discover they're expecting, orphaned Roy and Jemima Fisher, ages six and seven, are secretly devastated by the certainty they'll be given up. With Christmas around the corner, their only wish is for new foster parents as nice as Mr. and Mrs. Kurtz. Meanwhile, the Kurtzes have wishes of their own—and with faith, they all may be gifted with twice the blessings . . .
NEW BEGINNINGS by USA Today Bestselling Author Rachel J. Good
Still grieving the loss of her husband and unborn baby in an accident several months ago, Elizabeth Yoder is oblivious to her neighbor Luke Bontrager's deepening affection for her. But while she bleakly faces Christmas alone, it's Luke who reminds her it's the season for giving. And when Elizabeth donates her handmade baby clothes to New Beginnings, a home for teen moms, she soon finds her gifts repaid beyond measure, with Luke's love—and new beginnings of their own . . .
TWINS TIMES TWO by USA Today Bestselling Author Loree Lough
Spirited twins Priscilla and Leora Schwietert have each been blessed with mischievous twins of their own—all born on Christmas. Nearing their fourteenth birthdays, their sons have asked for horses. Their parents can fulfill their wish—but worry they'll be rewarding unruly behavior. The solution: A contract requiring hard work and an anonymous gift for someone in need. After thoughtful prayer, the boys surprise their parents—as each husband and wife rediscovers their joy in Christmas and their love for each other. . .
And be sure to preorder Amish Christmas Miracles for 99 cents at the Apple Bookstore, BarnesandNoble.com or Amazon.com. 14 Amish authors. 14 heartwarming Christmas stories.