I have some good news and some bad news. The good news is that Austin, book 3 in the Petersheim Brothers series is definitely going to be released. The bad news is that it won't be out until 2022. 🙁 There are many good reasons for this, which I will not get into today, but just know that it will be worth the wait. This is one of my funniest, most romantic stories, and I am so eager for you to read it! With that in mind, I want to share part of the first chapter with you, which I hope will tide you over during the long wait. Unfortunately, it might just make you more antsy to get your hands on a copy.
Austin by Jennifer Beckstrand
Chapter 1
"It smells like something died down here." Austin stood on the bottom step like he was too good or too clean to come clear down into the cellar, as if he might get bitten by a spider or eaten by a moth—fears Alfie and Benji had to face every day. Austin wouldn't be so high and mighty if he was the one who had to sleep in the cellar.
But Mamm would never make Austin sleep in the cellar. Austin was her favoritest son in the whole world. Austin loved making peanut butter. Austin was mamm's best helper. Austin had never set anything on fire, as if that made him better than anyone else.
The cellar was for Alfie and Benji, two nine-year-olds who Mamm didn't think had any feelings. She didn't care that Alfie might die of a spider bite or get sick from a worm crawling down his throat while he was sleeping. It didn't even upset her that the cellar smelled like moldy socks and fermented pinto beans. And most people who knew what fermented pinto beans smelled like cared very much. But Mamm didn't.
Alfie couldn't stand the unjustice of it all. "If you think you're so smart, Austin, you can sleep down here and Benji and I will take your room."
That didn't annoy Austin in the least. Austin was hard to annoy, even though Alfie tried real hard. Austin just laughed. "Even if you paid me a hundred dollars, I wouldn't sleep down here. It stinks."
Alfie eyed Austin. How much would they have to pay him? It might be worth selling all their worldly possessions to get out of the cellar. The only thing Alfie really cared about was their dog, Tintin, but surely they could get more than a hundred dollars for their other stuff like their clothes and books and bird nest collection. Mamm wouldn't be too happy if they walked around naked, and they probably wouldn't be allowed in school with no clothes. Alfie smiled to himself. All the better. He hated school. Except for recess.
Alfie glanced at his twin bruder, Benji. Benji was happily playing with the train their bruder Andrew had made them. They could probably get ten dollars for that train, if Benji would part with it.
Benji didn't seem to care that Austin had just mocked their cellar, as if they belonged there like two orphan mice that nobody cared about. Benji was a gute bruder, but sometimes he just didn't care enough.
Austin stepped up to the second step. "Mamm says dinner's in ten minutes, and you better scrub your fingernails real gute or she won't let you touch the food."
What was it about Mamm and fingernails? Alfie and Benji had to keep their fingernails trimmed and clean, and the one time Alfie had put on fingernail polish, Mamm had nearly popped a blood vessel in her neck. Alfie had seen it bulging.
Alfie's blood boiled as he watched Austin run up the stairs. Austin could escape from the cellar anytime he wanted, but Alfie and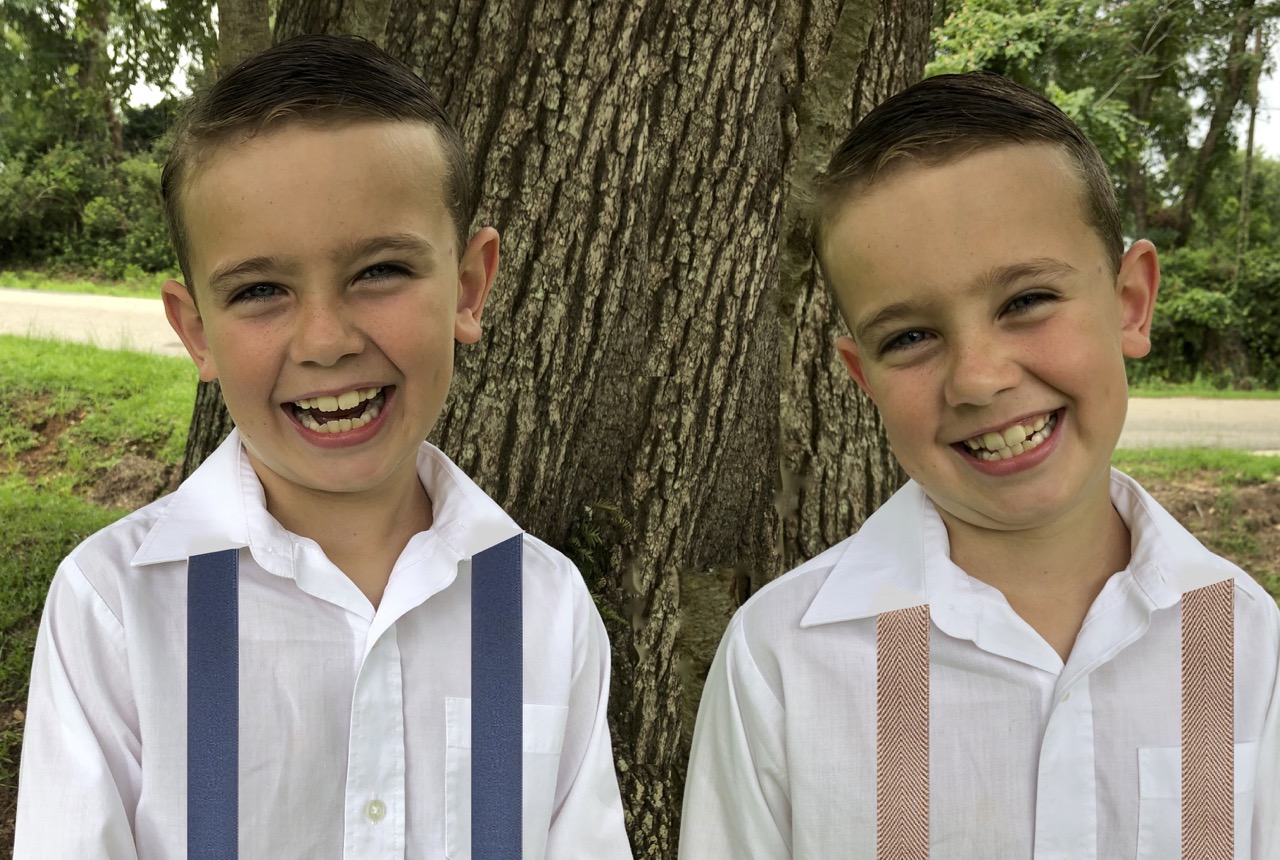 Benji were stuck here until Austin moved out of the house. Well, Abraham and Austin both had to move out, but Abraham was getting married next year, so they just had to find a way to get rid of Austin. They needed to find him a wife. But Austin was going to be real hard because Alfie didn't know of any girl who would take him.
Benji put the toy train in the bin Mamm had given them for their toys. "Let's go wash our hands. Mammi bought a special brush." Benji was a gute bruder, but sometimes he was too obedient and not angry enough.
"Benji, how can you think of scrubbing your fingernails at a time like this?"
"A time like what?"
"A time that we're still sleeping in the cellar."
"We have to sleep in the cellar. Dawdi had a stroke and now Mammi and Dawdi are living in Mamm and Dat's room. Mamm and Dat have our room, and Abraham and Austin share a room. There isn't room for us to sleep anywhere else."
Alfie growled. "I know that. That's why we have to get Austin out of the house. When Abraham gets married, Austin will be the only one left."
"Okay," said Benji, as if he already knew it all, which he did. They'd talked about getting their bruderen out of the house ever since they were eight.
"Benji, it doesn't seem like you care if Austin ever moves out."
Benji scratched his head. "I care. But I really want to eat dinner, and I have dog poop under my fingernails."
"Dog poop?"
"Jah. I was playing with LaWayne and accidentally put my hand in his poop. I wiped most of it off on my pants, but there's still some under my fingernails."
Alfie pinched his lips together. No wonder it smelled so bad down here. "Before you scrub your fingernails, we need to talk about Austin. It's going to be real hard to find him a wife because he's cocky and proud and doesn't care that his little bruderen have to sleep in the cellar. And don't call our dog LaWayne. His name is Tintin."
"But Mamm said if we want to keep him, we have to change his name to LaWayne."
Alfie huffed out a breath. "We only have to call him LaWayne when Mamm is around. His real name is Tintin."
Benji almost nibbled on his fingernail but probably decided to wait until he scrubbed. "We don't have to find Austin a wife. I already know. He's going to marry Hannah Yutzy."
Alfie rolled his eyes. Benji was a gute partner, but he didn't know anything about love. "Austin won't marry Hannah. She's his best friend since first grade. He needs to fall in love with somebody."
"He's already in love with Hannah," Benji insisted. "He just doesn't know it yet."
"He is not," Alfie said. "He's more interested in Priscilla Lambright. She stares at him all the time in gmay."
"Even during the prayers?"
Alfie shrugged. "I don't know. I don't open my eyes."
"I'm going to look next time."
Alfie frowned. "The bishop will catch you."
"Nae, he won't. He never opens his eyes." Benji shifted his feet. "Probably."
"Even if Priscilla doesn't stare at Austin during the prayer, she likes him, and that's as gute as we're going to get because she's the only girl who might be willing to marry him. I have a plan, and we're going to make them fall in love. They'll get married, Austin will move out, and we'll get our room back. If we hurry, Austin and Abraham can have a double wedding. We'll kill two birds with one stone."
"We shouldn't kill birds. Mamm says they are Gotte's creatures and don't hurt a soul. Except sometimes they poop on people and eat their apricots."
Benji was a gute partner, but sometimes he had trouble concentrating on the plan. "We're going to make Austin fall in love with Priscilla Lambright, and we've only got a few weeks to do it if we want a double wedding."
"What's a double wedding?"
"It's when four people get married at the same time."
Benji squinted at Alfie. "To each other?"
"Jah. Priscilla works at the library. We should tell Austin to go check out some books."
Benji shook his head. "Austin is going to marry Hannah Yutzy."
Alfie clenched his teeth. He wasn't going to let Benji change the plan. "Priscilla is prettier than Hannah."
"She is not."
It was no use arguing about that. Hannah was prettier, and she smiled all the time. Priscilla never smiled, but Alfie wasn't about to admit it. "They are both as pretty as each other, but Priscilla knows how to make cookies."
"Hannah knows how to make donuts and pretzels."
"Priscilla is smarter," Alfie said. He didn't know if that was true, but it made a gute argument, especially since Priscilla worked at the library.
"Hannah knows how to quilt. And she laughs all the time. She thinks Austin is funny, and she's nice to the little kids."
Alfie pinched his lips together. Benji didn't know anything about girls, and he liked Austin too much. Nobody else liked Austin at all. "Benji, Priscilla is the only girl who might be willing to marry Austin. No one else will have him, especially not Hannah."
Alfie could usually talk Benji into anything, but Benji folded his arms and lifted his chin. "I want Austin to marry Hannah."
Alfie folded his arms too. He could be just as stubborn. "I want Austin to marry Priscilla."
"I won't help you spy on Priscilla," Benji said.
"I won't help you spy on Hannah," Alfie countered. "And I call the binoculars."
Benji squished his face until he looked like a prune. "Then I call the walkie-talkies."
Alfie didn't argue. You needed two people to work the walkie-talkies. Benji might as well throw them in the river for all the good it would do him. The binoculars were a much better idea. Besides, Benji wasn't as good a spy as Alfie. He'd be lost without Alfie's help. Alfie squared his shoulders. "I guess we're not partners anymore."
Benji sniffed and swiped his sleeve across his face. "I guess not."
It made Alfie kind of sad, the way Benji tried to be brave that they had broken up, but Alfie refused to shed a tear. Benji had made his choice, and he was going to lose for sure and certain. Alfie might as well start sending out invitations for Austin and Priscilla's wedding. Austin's bedroom was as good as his. And maybe if Benji asked real nice, Alfie would let Benji share it.