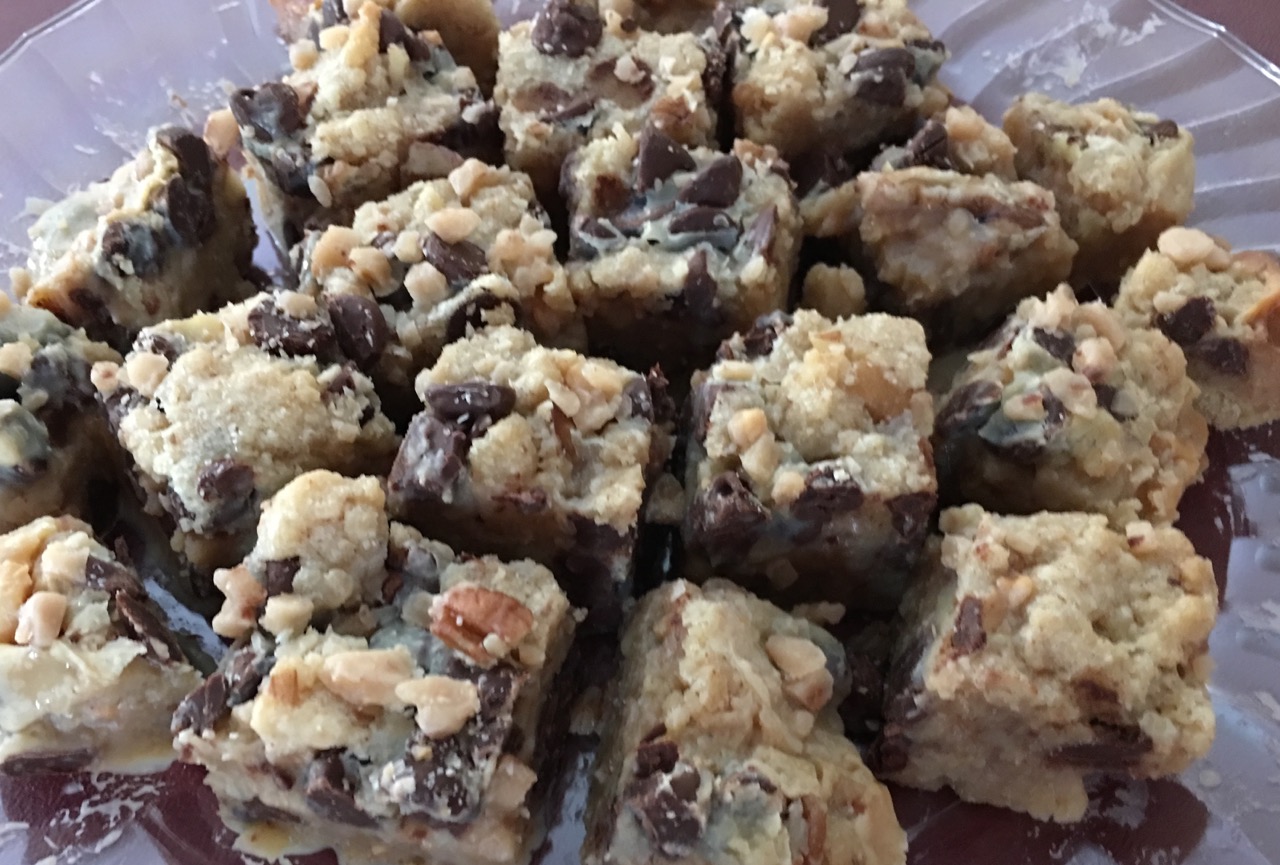 Happy New Year, everybody!
I am so excited for the new year and all the promise of wonderful things! On my own personal New Year's Resolution List: Deepen my trust in God, strengthen my cherished relationships, and always choose love. And lose 5 pounds. What are your resolutions?
This recipe is from Mel's Kitchen Cafe with a few of my own changes. These bar cookies are delicious and perfect for any occasion. Here is the original post.
I have added some of my own improvements.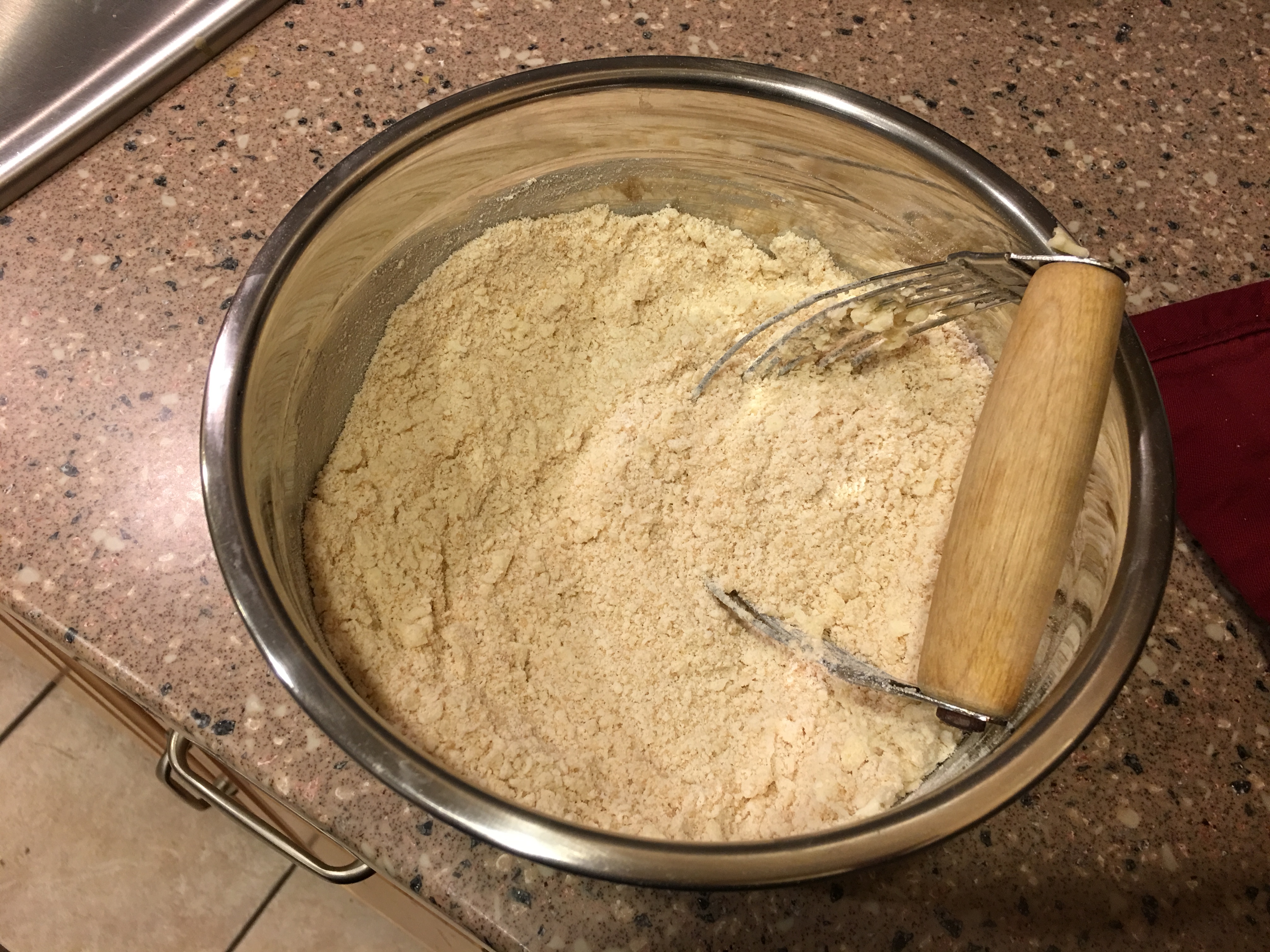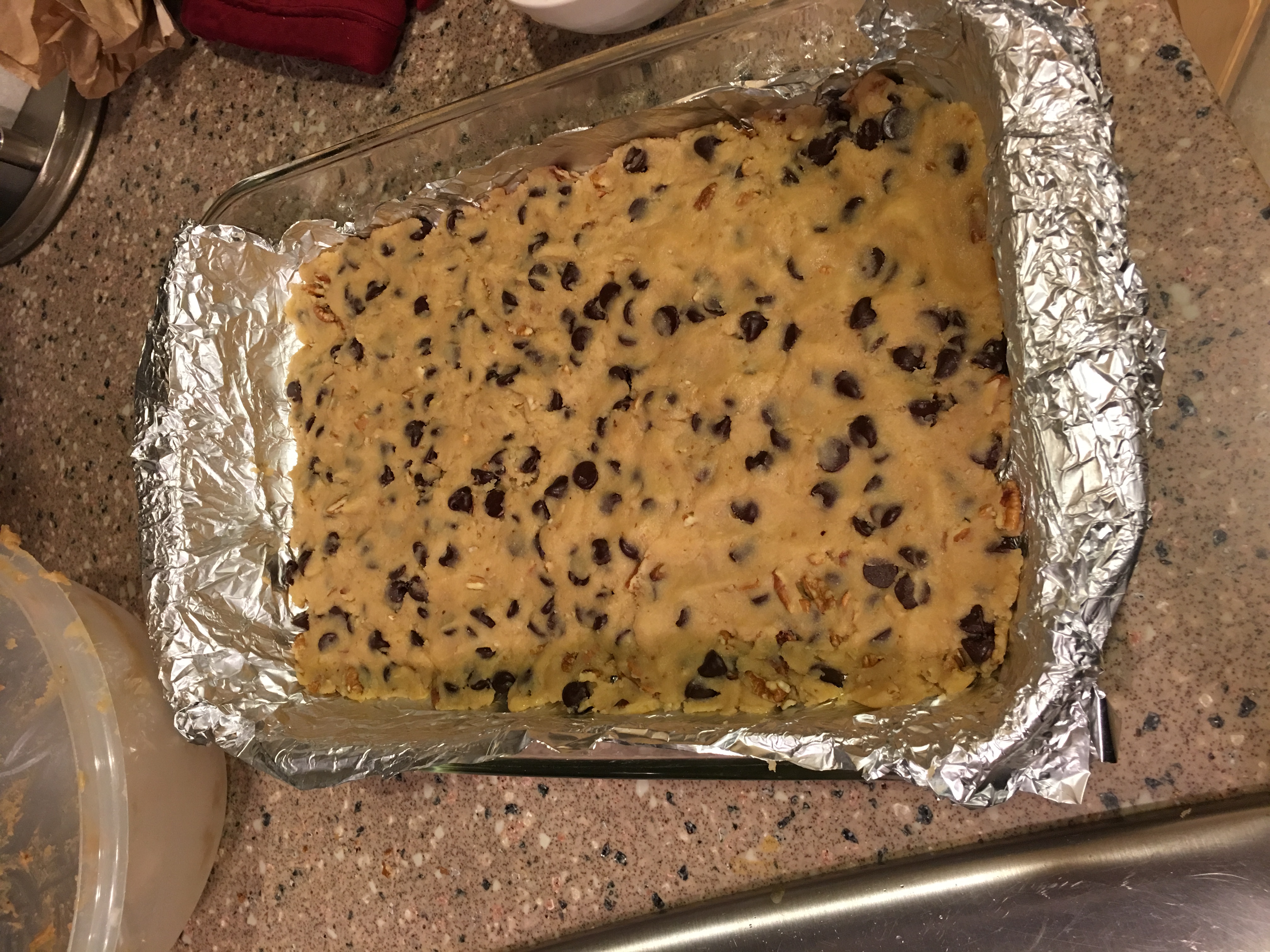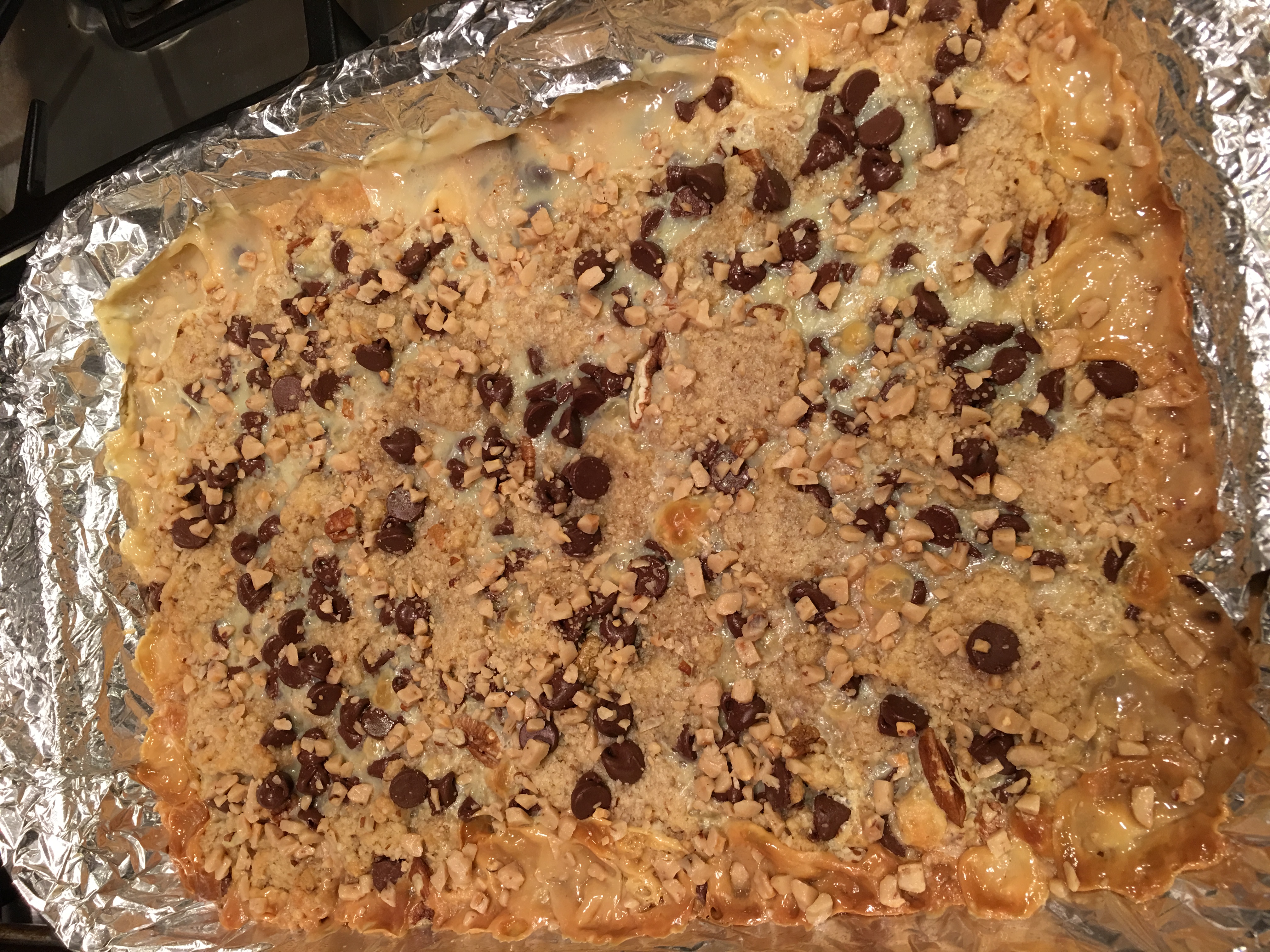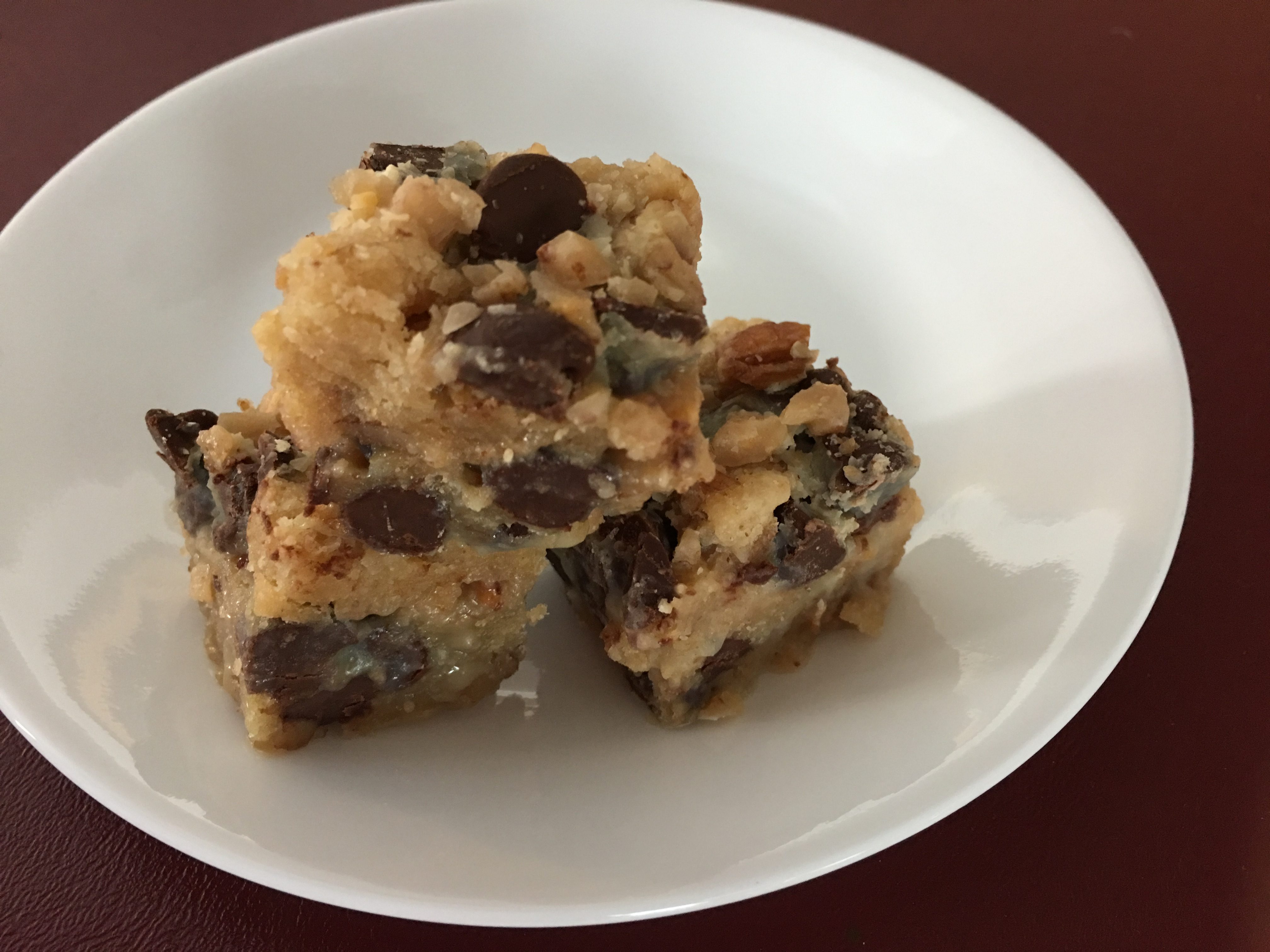 Ingredients
2 1/3 cup flour
1/4 teaspoon salt
2/3 cup brown sugar
3/4 cup butter, soft
2 eggs, slightly beaten
2 cups semi-sweet chocolate chips, divided
1 cup coarsely chopped nuts (optional)
1 can sweetened condensed milk
1 package toffee bits, divided
Instructions
Preheat oven to 350 degrees F. Line a 9X13-inch pan with aluminum foil and lightly spray with nonstick cooking spray.
In a large bowl, whisk together the flour, salt, and brown sugar. Cut in the butter with a pastry blender until the mixture is crumbly. Add eggs and mix well with a wooden spoon or your hands. Mix in 1 1/2 cups of the chocolate chips and the 1 cup nuts, if using. The mixture will be fairly stiff, so again, you may need to use your hands to get everything combined.
Set aside 1 1/2 cups of the dough. Press the remaining dough into the prepared pan. Bake for 10 minutes. Remove from the oven and pour the sweetened condensed milk evenly over the crust. Top with all but 1/4 of the toffee bits. Pinch pieces of the reserved dough and scatter over the top. Sprinkle with remaining 1/2 cup chocolate chips. Bake for 25-30 more minutes until golden brown. (If you bake them for 25 minutes, the bottom layer is the consistency of cookie dough. I prefer them to be a little more cooked. 30 minutes is perfect for me.) Sprinkle the remaining 1/4 cup toffee bits on top. Cool completely before serving.