Aunt B once gave me some great quilting advice: if you want to make an easy quilt, pick an easy pattern. So for our first foray together, I have picked the easiest pattern I could find: The Valentine's Day Table Runner.
My pretty, pink table runner is made completely of strips, so no matching squares or corners. It is machine quilted in straight rows, and it has no binding. And I made it with scraps, but you could just as easily use fat quarters.
I will admit from the start that one of the hardest parts of quilting for me is picking out the fabric, but I knew that I wanted this quilt to be unabashedly and unapologetically pink. I wanted something that basically screamed Valentine's Day (so please buy me chocolate). I liked these 7 fabrics, and used 3 of them twice. You could use up to 10 different fabrics or as few as 2.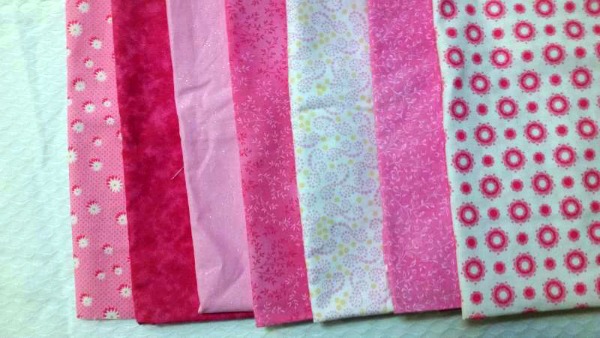 Here are the directions:
Cut 10 strips of fabric, 3" x 14". Then arrange them in any order you like.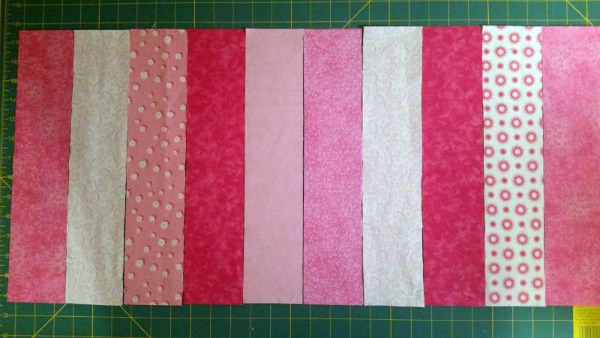 Number your strips from 1 to 10 so you will know in what order to sew them. I cut (or tear, depending on how lazy I'm feeling) pieces of scrap paper into 1" squares, number them from 1 to 10, and then pin them on my strips. This allows me to take all of my strips to the sewing machine at the same time without forgetting the order in which I will eventually want them.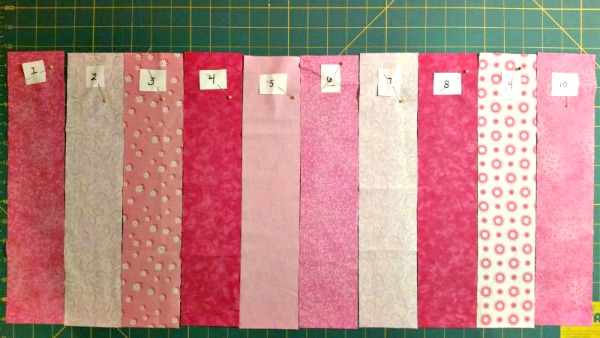 Now sew the first 2 strips, right sides together, down one of the long sides of the strips. Be sure to use a scant ¼" seam.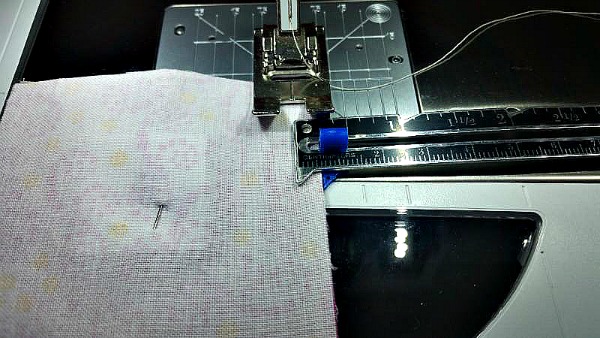 After you have finished sewing the first 2 strips together, chain sew strips 3 and 4, 5 and 6, 7 and 8, 9 and 10. If you have never chain sewed before, you are about to discover your new favorite sewing technique. When you get to the bottom of strips 1 and 2, don't cut your thread. Put strips 3 and 4 right sides together and then put the top of 3 and 4 against the bottom of 1 and 2. Start sewing 3 and 4 together. In the photo below, you will see that my strips are only about ¼" apart.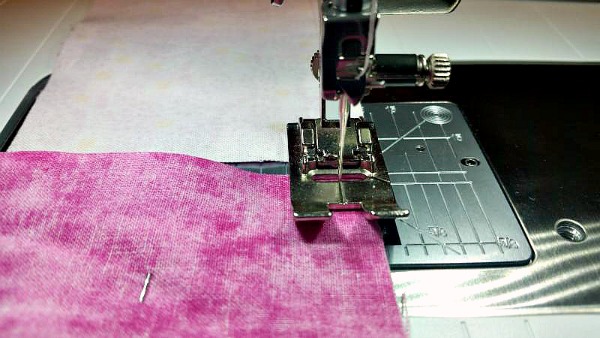 When you reach the bottom of 3 and 4, don't cut your thread. Get 5 and 6 ready to sew, then butt them against 3 and 4 and continue sewing. This is how the strips look as they come out of the back of my sewing machine, attached together by about ¼" of thread.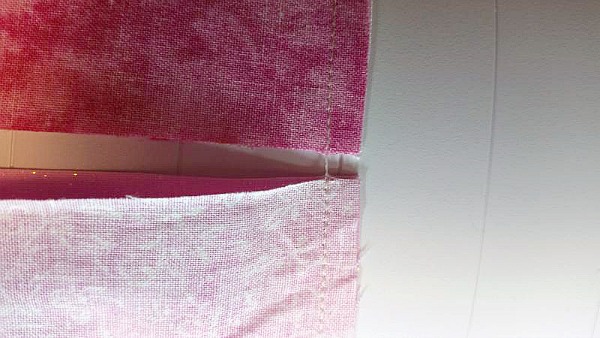 After all of your strip pairs are sewn together, cut your thread. The photo below shows some of the pairs sewn together, their numbers still attached. (Aren't you glad now that you took the time to number your strips?)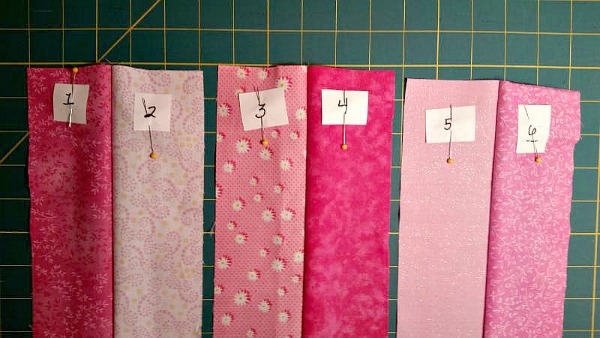 Finish sewing all of your strips together.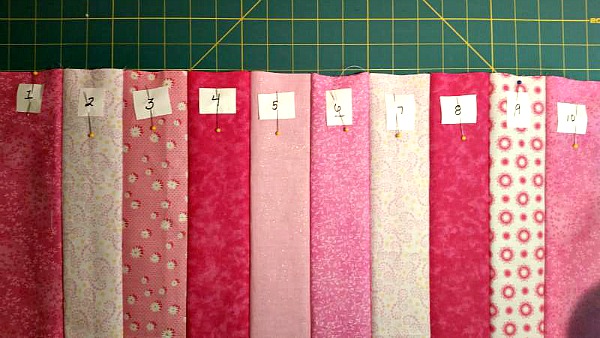 Then take your newly-created block to the ironing board. Remove your numbers, and press all the seams to one side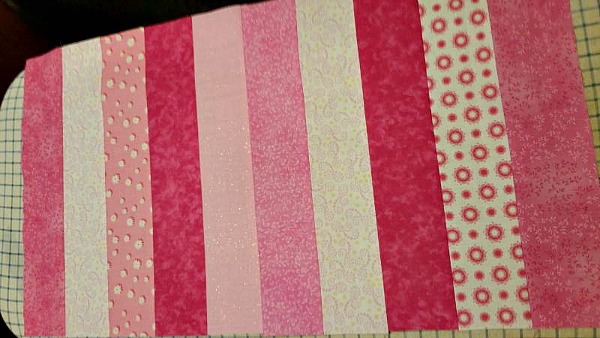 Take your block back to your cutting mat and admire it. Admire first, and then see if your block is even and square. In the photo below, you will notice that some of my strips are slightly longer than other strips. I wish I could say that uneven strips are a rare sight in my sewing room. Woe and alas, they are not.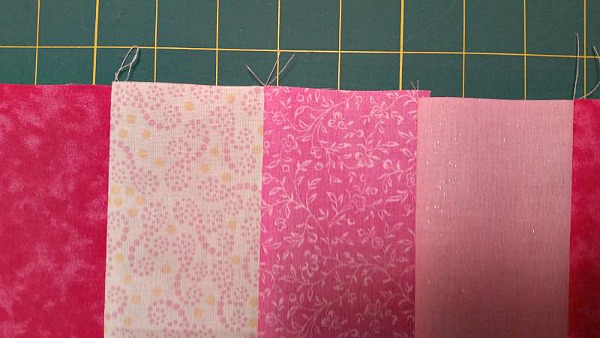 Luckily, I have a great ruler and rotary cutter. In the photo below, I'm just about to use them.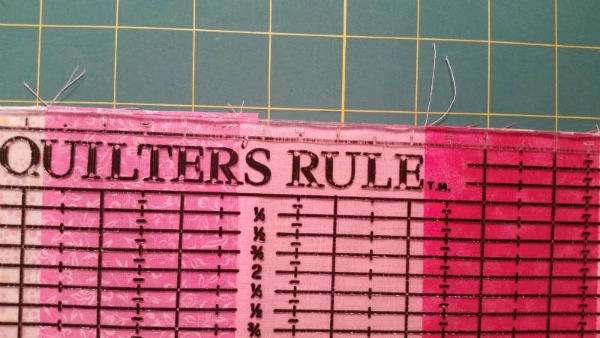 Don't tell anyone that you had to trim your block. Everyone will assume you are a perfect quilter.
After your block is square and even, it's time to add the border. I can never manage to pick out border fabric until I have finished sewing the part of the quilt that needs the border. I always have to compare several border fabrics to decide what will look the best with my quilt. These are some of the fabrics I considered using, and all I can see about this one is, "No."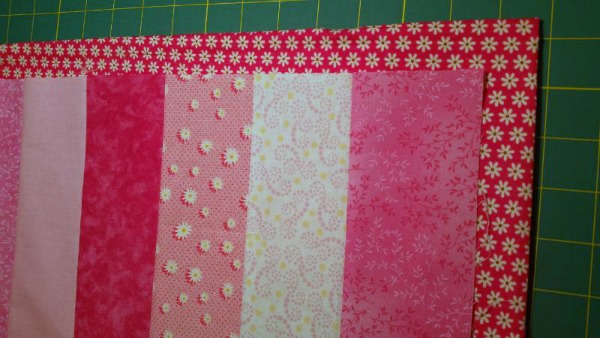 Notice that I fold the border fabric into a neat square, and then put the block on top of the square with only an inch or two of the border fabric showing. I'm trying to see exactly what the finished quilt would look like.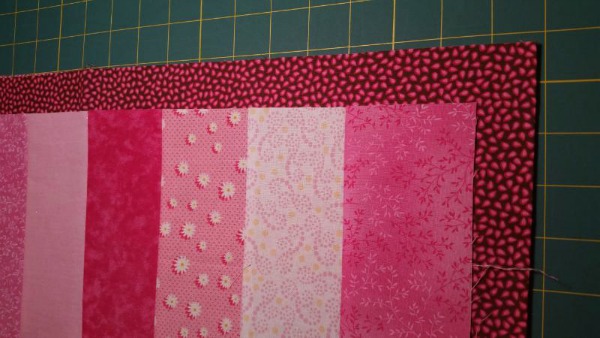 In the photo below, I tried a fabric that is lighter than most of the strips. What do you think?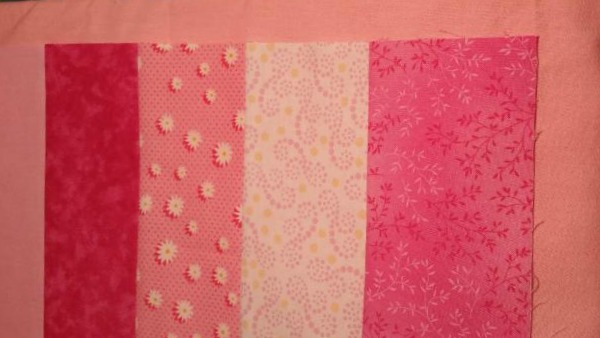 I wondered about using a fabric for the border that I had also used for one of the strips.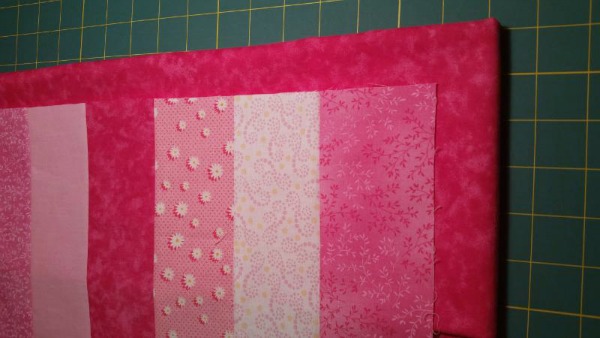 And I don't like it. Can you see in the photo above that the strip that matches the border fabric sort of "disappears" into the border?
The darker border fabric in the photo below was my favorite. (The color reminds me a little of cherry chocolates. This goes along with my please-buy-me-chocolate-because-it's-Valentine's-Day theme.)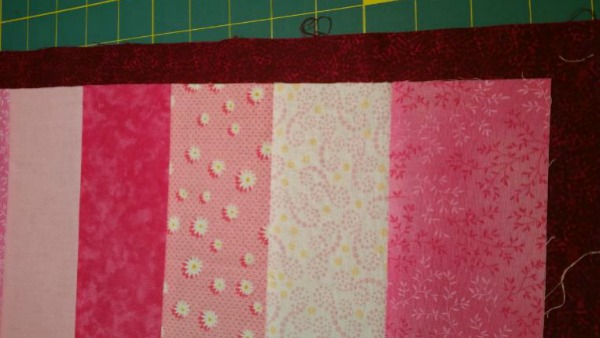 Cut the 2 long border pieces first, so 2 strips that measure 2" x 25 ½". Sew each long border onto the two long sides of the block, right sides together.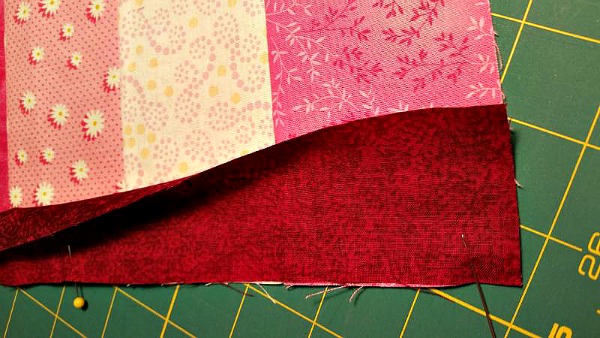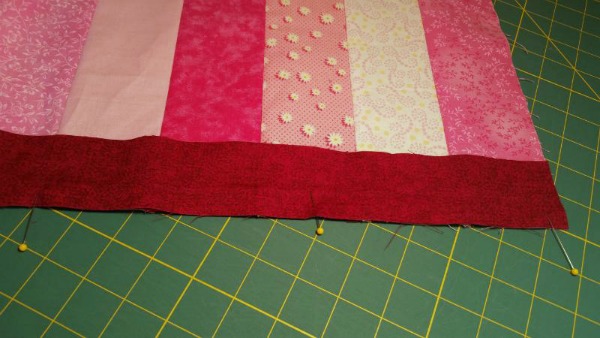 Press the seam towards the border.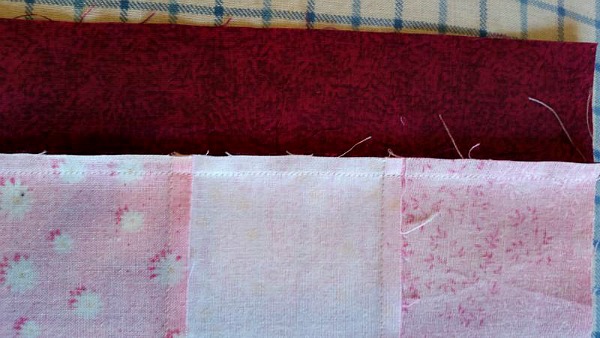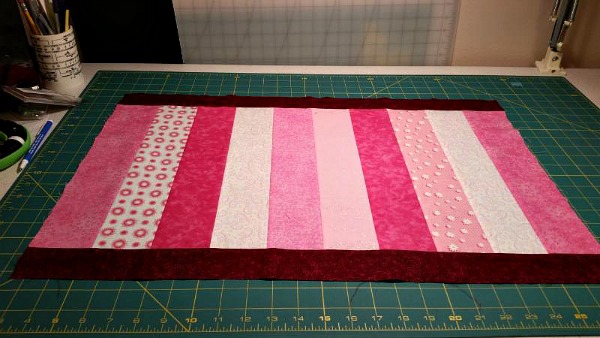 Cut the 2 shorter border pieces 17" x 2". Sew them to the two short ends of the block, right sides together. Press the seams towards the border.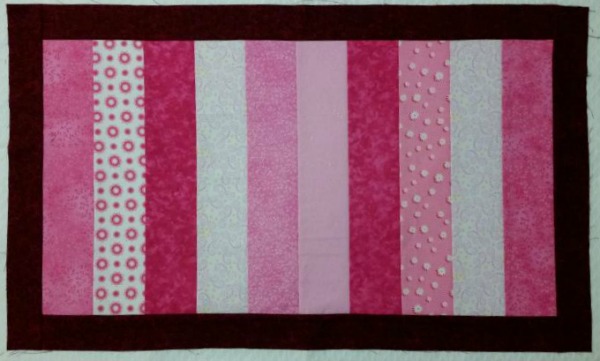 Next week we make our quilt sandwich in preparation for quilting the table runner. You are thinking, "Why is she devoting an entire post to making a quilt sandwich? And does she really plan to eat it?" (Ha, ha—quilting humor.) The answer is that great prep work enables stellar quilting. See you next week!